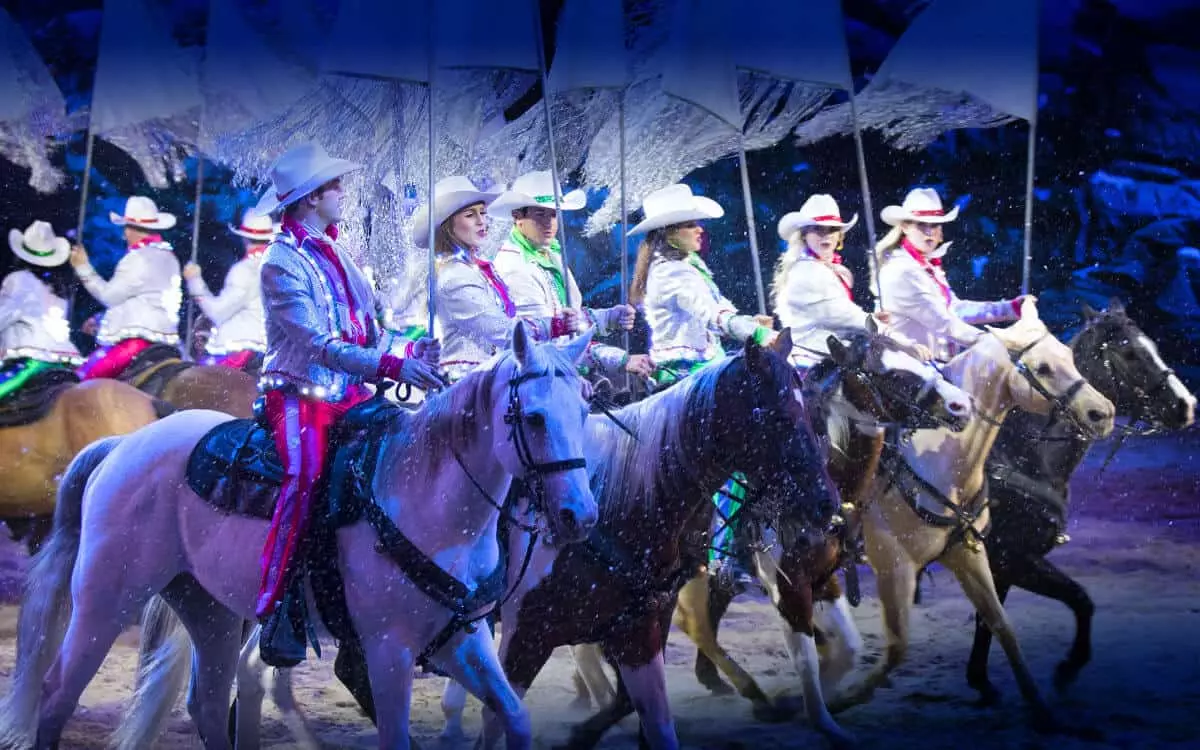 Christmas at Dolly Parton's Stampede Opens In Branson October 28
Celebrate Christmas at Dolly Parton's Stampede, Opening October 28, 2021, in Branson
Experience the joy of the holidays at Christmas at Dolly Parton's Stampede! There's no better place in Branson to celebrate the true spirit of the holidays than Dolly Parton's Stampede.
Filled with festive horse-riding stunts, stirring holiday music, a spectacular live nativity and a four-course holiday feast, Christmas at Dolly Parton's Stampede is Branson's #1 Choice For The Holidays!™
The Spirit of the Season
Dolly Parton's Stampede Dinner Attraction is decking the halls and grooming the horses for the holiday season, transforming into a dazzling Christmas spectacle that includes a full-scale living Nativity, glittering holiday decorations, familiar holiday tunes and even a visit from Santa Claus, himself!
Catch the holiday spirit as the Stampede arena is transformed into a Christmas fantasyland and Elves from the North and South Pole compete in a friendly holiday rivalry. The entire audience will enjoy cheering on their respective sides of the North Pole and South Pole as Stampede's 32 magnificent horses race in exciting holiday competitions!
The young and young-at-heart will be amazed at "The Magic of Toys," as The Sugar Plum Fairy magically brings toys to life in a stunning aerial display set to the unforgettable music of The Nutcracker. Of course, no Christmas is complete without an appearance by Santa, who arrives in his sleigh as the Stampede arena is filled with snow and Christmas cheer.
Spectacular Live Nativity
The true meaning of the season comes alive right before guests' eyes, with the birth of Jesus portrayed in a living nativity with Mary, Joseph, the three wise men atop camels, and shepherds leading donkeys and their flock of sheep. Guests will feel as if they have been instantly transported deep into the natural beauty of Christmas, from the mountains of the Ozarks to the clear skies above Bethlehem on the night of Jesus' birth. It's the most special time of year for families, who continue to make Christmas at Dolly Parton's Stampede part of their annual family tradition.
Four-Course Holiday Feast
No Christmas celebration is complete without a festive holiday dinner! The entire family will enjoy our signature four-course holiday feast, which includes a whole rotisserie chicken, hickory-smoked barbecue pork loin, herb-basted potato, buttery corn on the cob, creamy vegetable soup, homemade biscuit, a special holiday dessert, and unlimited Coca-Cola® products, tea or coffee. Vegetarian and gluten-free meals are available by request.
From the dazzling decorations and magnificent music to the awe-inspiring living nativity, nothing compares to the way we bring the spirit of the season to life at Branson's #1 Choice For The Holidays!™