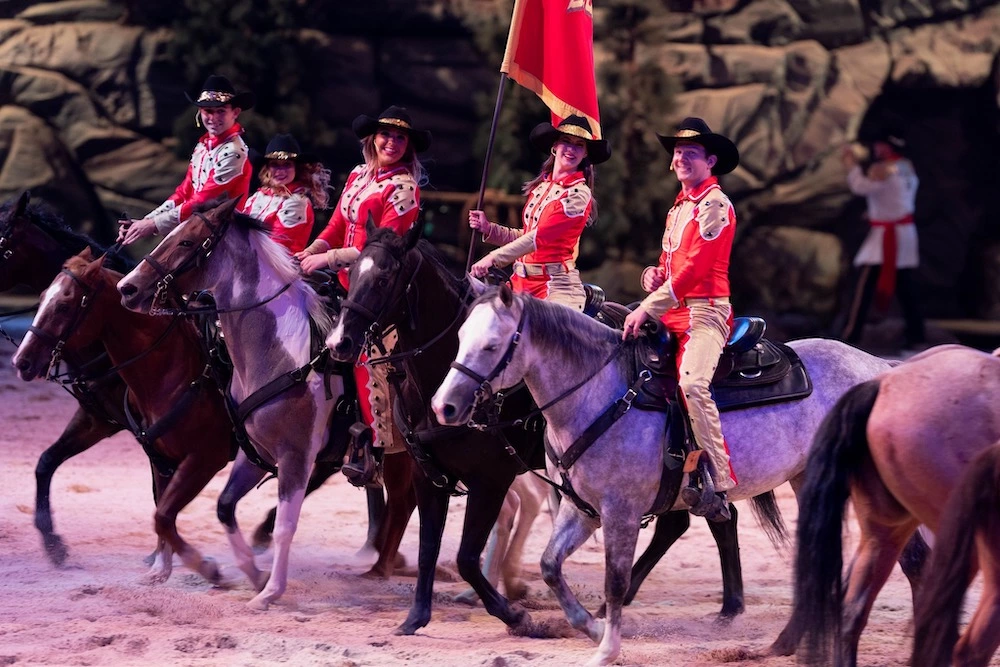 What Makes Dolly Parton's Stampede in Branson Great for Groups?
Are you ready for an unforgettable group getaway to Branson? You'll want to make sure you visit Dolly Parton's Stampede while you're here! Our world-class dinner attraction is the perfect group activity. Not only do we provide both dinner and entertainment, but you'll be able to create long-lasting memories with each other while you're here! Keep reading to find out what makes Dolly Parton's Stampede in Branson great for groups:
Our Group Pricing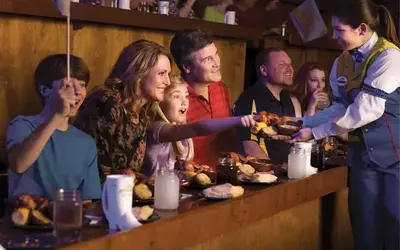 Group outings can be expensive, especially when visiting with a larger group! We help you cut costs on your vacation by offering special group pricing. Groups of 20 people or more will get a discount! This is a great way to help your group save. Plus, our dinner show in Branson offers the best value — you can enjoy a four-course feast and incredible entertainment for the price of one ticket!
Our Special Group Events
We love welcoming groups both big and small to our 35,000 sq. ft. arena. We can accommodate groups as large as 1,000 people! From field trips for children, choirs, bands, or sports teams, to church groups, to family reunions — all groups love the high-spirited adventure at Dolly Parton's Stampede. Our goal is to make it an experience that your group will remember for years to come. We also have space for meetings and special events!
Fun for All Ages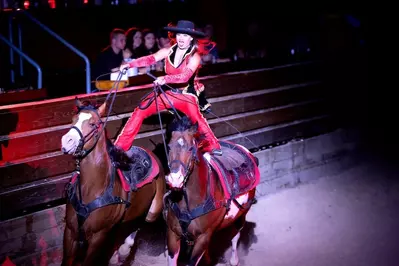 Another reason Dolly Parton's Stampede in Branson is great for groups is because it's fun for all ages. You won't have to worry about finding an activity in town that everyone in your group can agree upon — just bring them to our dinner attraction! Our show has something for everyone, including thrilling horse riding stunts, spectacular musical productions, and stunning special effects. You'll be amazed at everything you see throughout our show. Animal lovers get to see 32 beautiful horses, a stampede of buffalo, our famous longhorns, rescue dogs, and more! Those interested in exciting stunts will love our aerial performances, horse tricks, and more. Kids, teens, parents, and grandparents will all have fun at Dolly Parton's Stampede!
Food Everyone Will Love
One of the best parts about our attraction is our delicious dinner. We serve up a four-course feast that will remind you of all your favorite family meals back home. Why deal with the hassle of finding a restaurant that can accommodate everyone in your group when you can all satisfy your country cravings while enjoying non-stop entertainment? While you watch our show, you'll feast on our signature creamy vegetable soup, a scrumptious homemade biscuit, a mouth-watering tender whole rotisserie chicken, a hickory smoked barbecued pork loin, buttery corn on the cob, a tasty herb-basted potato, and a specialty dessert! You'll also have unlimited Coca-Cola®, tea, or coffee. If anyone in your group has dietary restrictions or preferences, we serve vegetarian and gluten-free feasts upon request!
Now that you know what makes Dolly Parton's Stampede in Branson great for groups, the next thing to do is start planning your group's visit! Fill out our Groups Form for more information, and we'll be in touch with you soon.