4 Myths About Our Pigeon Forge Show and the Truths Behind Them
Our show opened its doors over 35 years ago, and it has since become the world's most visited dinner attraction! Because of its popularity, you may have heard quite a few misconceptions about our show circulating, so we're here to clear them up. Keep reading to learn about 4 common myths we've heard about our show and the truths (if any) that are behind them.
1. Dolly Parton is in the show.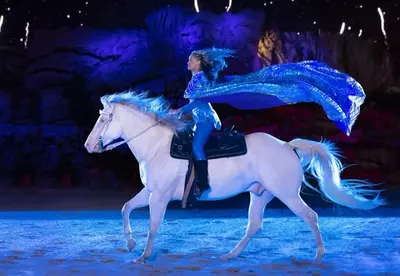 Because of our name, Dolly Parton's Stampede, some people think that Dolly Parton is actually in the show herself, or visits to perform in the show every once in a while. While we love our Smoky Mountain hometown hero, Dolly's busy schedule doesn't allow her to be able to perform live in our show. However, that doesn't mean you can't still enjoy Dolly magic throughout the performance! Our show features some Dolly Parton music, including an original song written just for the show that plays during a spectacular aerial performance.
2. You have to eat with your hands.
At Dolly Parton's Stampede, we serve a delicious four-course meal that guests can enjoy with their hands! While we do encourage everyone to dig in without silverware, you don't have to use your hands. We do provide a fork that you can use if you prefer! Our meal consists of Creamy Vegetable Soup, a Scrumptious Homemade Biscuit, a Mouth-Watering Tender Whole Rotisserie Chicken, a Delicious Hickory Smoked Barbecued Pork Loin, Buttery Corn on the Cob, a Tasty Herb-Basted Potato, The Stampede's Specialty Dessert, and unlimited Coca-Cola, tea, or coffee. You can use silverware or your hands — whichever will make you enjoy the meal even more!
3. We only have one location.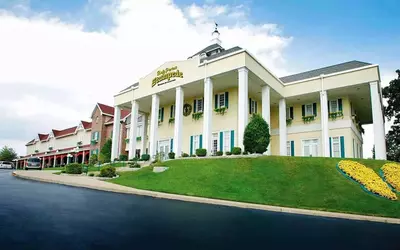 Our show has a great location in the heart of Pigeon Forge, so you're able to stop by and see us anytime you're in the Smoky Mountain area! However, this isn't the only location we have. You also have the opportunity to see us when you visit Branson, Missouri! Our Branson dinner attraction is located at 76 West Country Boulevard, close to popular resorts, hotels, and attractions. While the shows are similar, we recommend visiting both locations! Our Branson location is the only one to offer our special Canine Capers event.
4. We offer the same show all year.
Another myth about our Pigeon Forge show is that we offer the same show all year long. While you can visit the Stampede to enjoy our original world-class show from early in the year through October, we offer a spectacular Christmas show for the holiday season! In November and December, the Stampede arena transforms into a magical Christmas wonderland with twinkling lights, evergreens, poinsettias, and old-fashioned holiday costumes. Watch as the elves from the North Pole and South Pole get playful in some friendly competition, our horses take you on a nostalgic holiday adventure, and our live nativity brings the true meaning of Christmas to life. You won't want to miss the chance to see Christmas at Dolly Parton's Stampede!
These are just a few of the common myths we've heard about our show! The truth is, Dolly Parton's Stampede provides a high-spirited adventure for guests of all ages, and you don't want to miss out on a chance to experience our dinner show. Learn more about our Pigeon Forge show and start planning your visit.