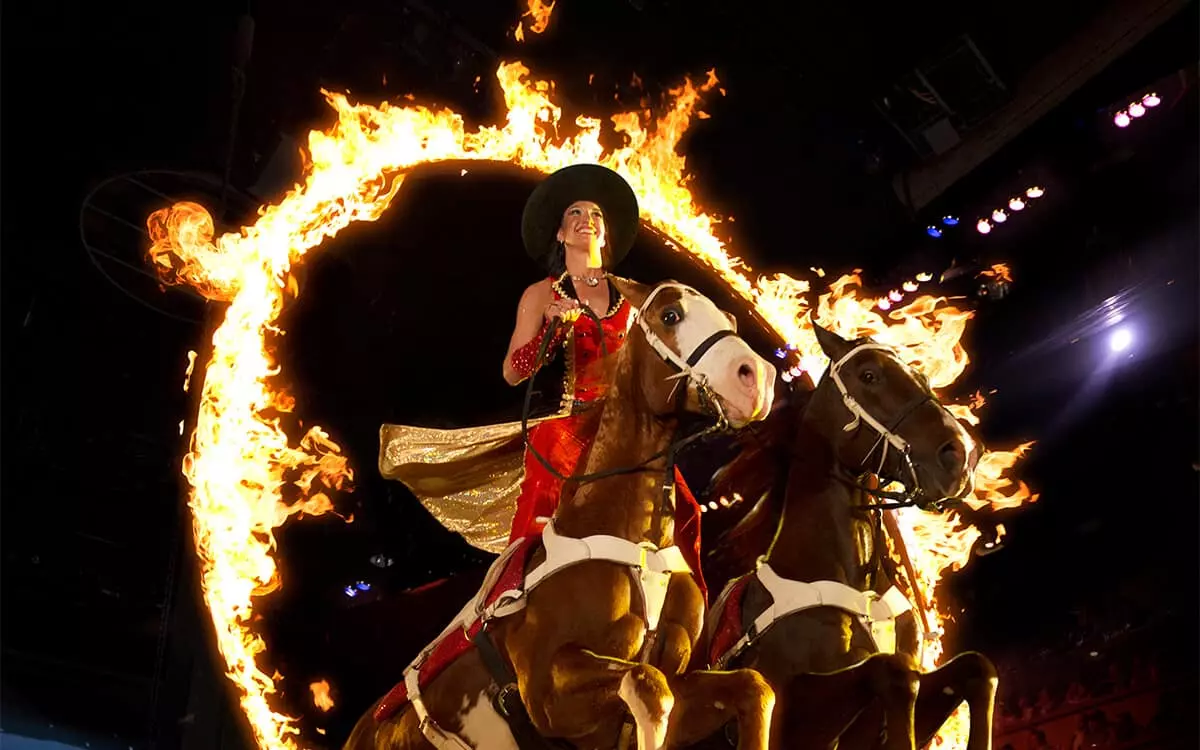 Saddle Up For Summer Adventure At Dolly Parton's Stampede
Kick your summer into high gear at Branson's Most Fun Place To Eat!™
Tighten your bootstraps and Stampede into spectacular summer fun at Dolly Parton's Stampede! There's no better place in Branson to cheer, laugh and make new memories together than Dolly Parton's Stampede.
Filled with thrilling stunts, hilarious comedy, foot-stomping music and spectacular special effects, plus a mouth-watering Four-Course Feast complete with a delicious dessert, Dolly Parton's Stampede is Branson's Most Fun Place to Eat!™
High-Spirited Adventure
The excitement begins even before you step through the door. Take a stroll down the beautiful Horse Walk and meet the 4-legged stars of the show, our 32 magnificent horses.
Then, prepare to experience a powerful performance featuring a cast of top-notch trick riders in our 35,000 square foot arena, where our state-of-the-art set immerses you into the show, set in America's Great Plains of yesteryear. With singing, dancing, special effects and impressive displays of horse-riding skills, nothing compares to the experience of enjoying our world-class production with your family and friends—live, up-close and in-person.
Experience the thrill of a friendly competition, horseback stunts at top speed, spectacular special effects, and phenomenal musical productions, all while you enjoy a mouthwatering Four-Course Family Feast!
Fabulous Four-Course Feast
Some of life's greatest memories are made at the dinner table, and Stampede's signature Four-Course Feast is a dinner you'll never forget! Enjoy our delicious creamy vegetable soup, a homemade buttery biscuit, a whole rotisserie chicken, hickory-smoked barbequed pork loin, buttery corn on the cob, herb-basted potato, Stampede's own specialty dessert and unlimited beverages including Coca-Cola® products, tea and coffee. (Vegetarian, vegan and gluten-free meals are available upon request.)
From the thrilling stunts, friendly competition, spectacular special effects and a mouthwatering feast, Dolly Parton's Stampede has the fun and excitement for an unbeatable summer experience in Branson, MO!