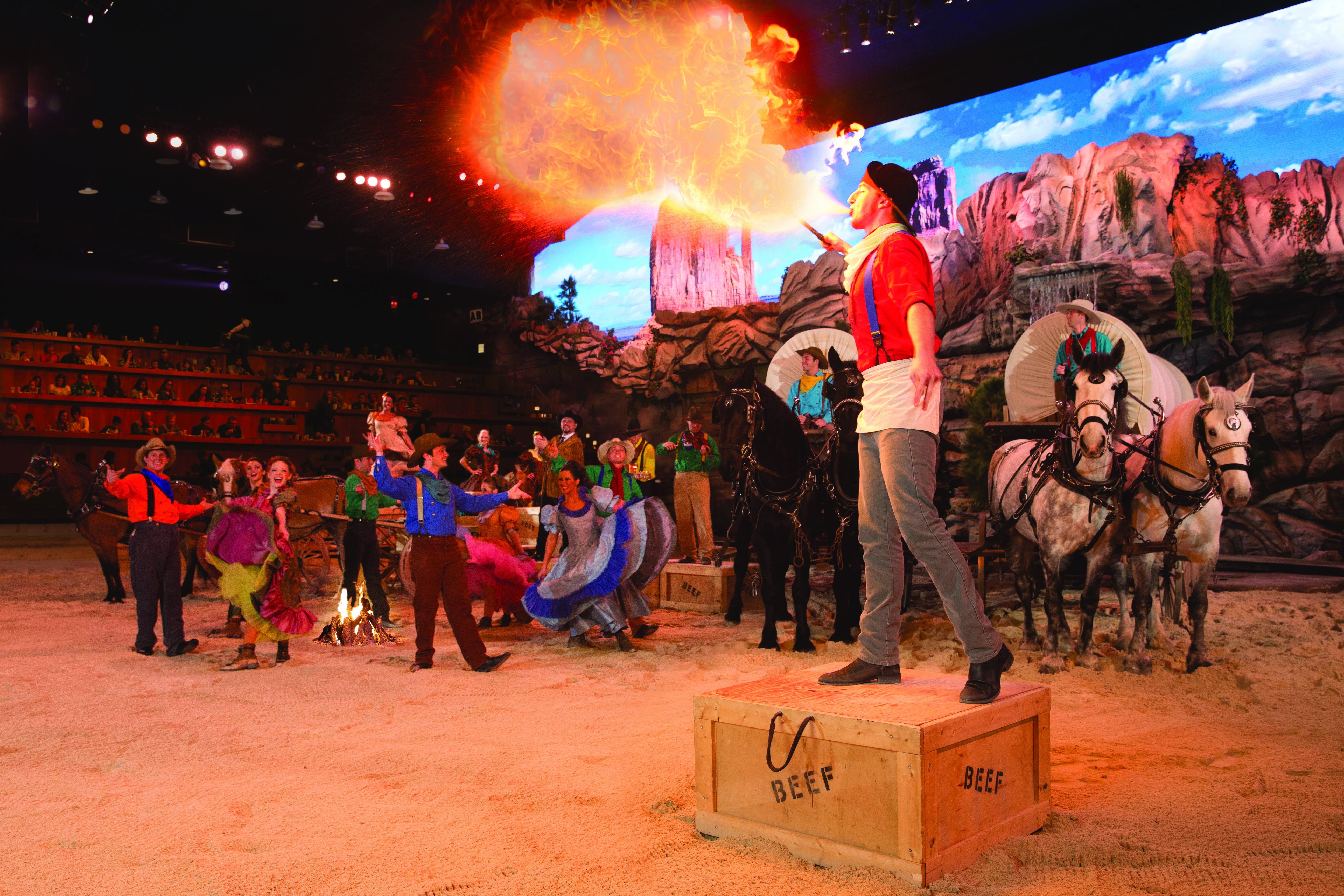 Tighten Your Bootstraps for Fall Family Fun
Feast your way into fall at Branson's Most Fun Place To Eat!™
Take the reins and saddle up for spectacular autumn adventure at Dolly Parton's Stampede! There's no better place in Branson to enjoy the sights, sounds and tastes of fall than Dolly Parton's Stampede.
From the stirring music and thrilling horse-riding stunts to the friendly fall competition and mouthwatering Four-Course Feast, Dolly Parton's Stampede is Branson's Most Fun Place to Eat!™
Autumn Adventure
Gather 'round the campfire and go back in time to the sights and sounds of the old west. With foot-stomping singing and dancing and state-of-the-art effects, experience a timeless adventure filled with galloping horses, free-roaming buffalo, cowboys and cowgirls.
You'll be in awe of our 32 magnificent horses as our show takes you on a thrilling ride of epic proportions. Cheer for your team as our talented riders jump into autumn's timeless colorful traditions with a wide variety of classic trick riding events. You can count on an exhilarating show filled with lots of friendly competition, daring stunts and phenomenal music, all while you enjoy a mouthwatering Four-Course Feast!
Savory Fall Flavors
Savor the tastes of fall as you feast on a four-course meal as big as the autumn harvest! Our Four-Course Family Feast includes our famous ​​creamy vegetable soup, a homemade buttery biscuit, a whole rotisserie chicken, hickory-smoked barbequed pork loin, buttery corn on the cob, an herb-basted potato, Stampede's own specialty dessert and unlimited beverages including Coca-Cola® products, tea and coffee. (Vegetarian, vegan and gluten-free meals are available upon request.)
With incredible stunts, show-stopping music and a fabulous four-course feast, no fall vacation is complete without a visit to Dolly Parton's Stampede in Branson, MO!