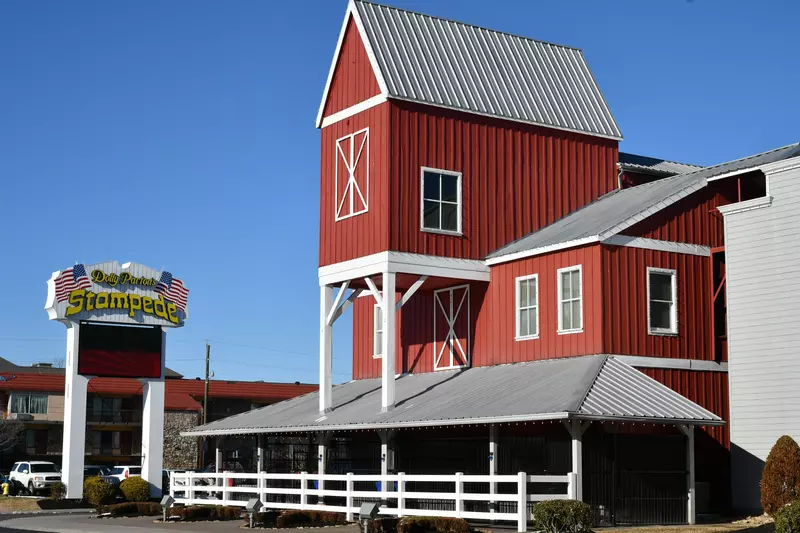 All the Details About Our Favorite Dinner Shows in Pigeon Forge
Ready for the perfect evening in Pigeon Forge? Combine both dinner and entertainment for an unforgettable experience at one of the best dinner attractions in the area. Not only can you witness a magical performance with us at Dolly Parton's Stampede, but you can also visit one of our sister dinner attractions right down the road. Here are all the details about our favorite dinner shows in Pigeon Forge:
1. Dolly Parton's Stampede
It's no surprise that our world-class dinner attraction is at the top of this list! Dolly Parton's Stampede is the most fun place to eat in Pigeon Forge. You can celebrate a family tradition like no other when you visit. During our regular season, 32 magnificent horses, along with a cast of talented trick riders, take the arena by storm as they show off their skills. The show also features spectacular special effects, an aerial performance, and phenomenal music productions, along with a bit of audience participation! During the holiday season, enjoy our Christmas extravaganza with holiday costumes and music, a live nativity, some friendly competition between the elves, and so much more. During both shows, you'll get to feast on a delicious four-course meal that will satisfy all your country cravings! The menu includes the following:
Our Own Original Creamy Vegetable Soup
Hot Homemade Biscuit
Tender whole Rotisserie Chicken
Hickory Smoked Barbeque Pork Loin
Buttery Corn on the Cob
Herb-Basted Potato
Hot Flaky Apple Turnover
Unlimited Coca-Cola, tea or coffee
We also offer vegetarian and gluten-free meals upon request. You don't want to miss the chance to enjoy our one-of-a-kind dinner show!
2. Pirates Voyage Dinner & Show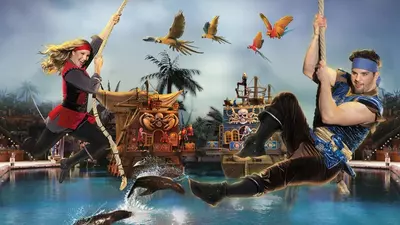 Vegetarian, gluten-free, vegan, and dairy-free meals are available upon request. You'll love this action-packed show, and be sure to arrive early for the chance to Join the Crew!
3. Hatfield & McCoy Dinner Feud
Another one of our favorite dinner shows in Pigeon Forge is the Hatfield & McCoy Dinner Feud. If you're in the mood for some knee-slapping comedy, along with singing and dancing from talented performers, visit the Hatfield & McCoy Dinner Feud! You can become a part of the longest running feud in history and help the Hatfield and McCoy families try to settle their differences through singing and dancing, mighty feats of strength, and jaw-dropping stunts. You'll even get to see diving dogs and diving hillbillies show off their skills in the swimming hole! If you visit during the holiday season, get ready for a Christmas show that will make you feel better about having to spend Christmas with the in-laws. Hatfield & McCoy Christmas Disaster Dinner Feud puts a holiday twist on their classic show, and the high-flying billycopter will help the sheriff decide which family members belong on Santa's naughty list. Whatever time of year you visit, you'll be able to have an all-you-can-eat Southern feast that will taste like it's straight from your grandmother's kitchen! The meal includes the following:
Feudin' Fried Chick'n
Open Pit Pulled-to-Pieces Pork Barbeque
Southern Style Creamy Soup
Smashed Mashed Taters
Buttery Corn on the Cob
Ma's Hot Homemade Bread
No Tellin' What's In It Coleslaw
Granny's Famous Specialty Dessert
Unlimited Pepsi, tea, or coffee
Come join in on the feudin', feastin', family fun at Hatfield & McCoy Dinner Feud!
Now that you know all the details about our favorite dinner shows in Pigeon Forge, you have to come see them for yourselves! Take a look at our show schedule for Dolly Parton's Stampede and plan a visit to see the show at the top of our list!