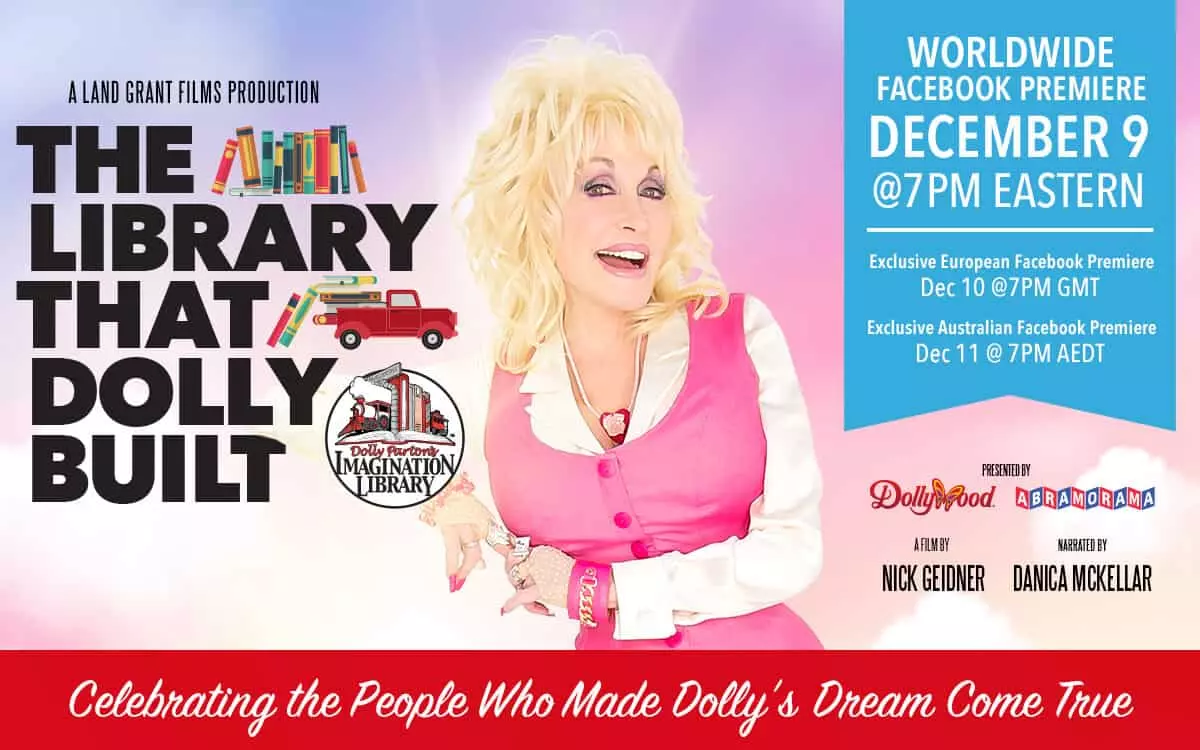 Dolly Parton's Imagination Library Documentary Premiering December 9
Dolly Parton's Stampede shares in the excitement of the long-awaited Imagination Library documentary, "The Library That Dolly Built"
Dolly Parton's Stampede is honored to help sponsor the Imagination Library which is on track to gift 150 million books to children around the world by the end of this year. We are excited about the upcoming premiere of a new documentary that shines a light on Dolly's book gifting non-profit which we are honored to support.
Dollywood and Abramorama in association with The Dollywood Foundation have partnered to present a free one-night-only live streaming world premiere event for "The Library That Dolly Built," a behind-the-scenes look at Dolly Parton's non-profit program, the Imagination Library. Originally scheduled as a nationwide live event on more than 300 screens this spring, the world premiere for "The Library That Dolly Built" has been reimagined as a free live stream screening of the film, exclusively on Facebook, available nationally on Wednesday, December 9, at 7:00 pm EST / 6:00 pm CST / 4:00 pm PST. The screening will be followed by a conversation with, and live acoustic performance by, Dolly Parton. In addition, the European premiere will be Thursday, December 10, at 7 PM GMT and the Australian premiere will be Friday, December 11, at 7 PM AEDT.
Viewers can tune into the live screening and conversation on Facebook.com/dollysimaginationlibrary. Dolly said,
"I am so excited that we can finally tell the whole story of the Imagination Library. It is certainly not just about me. Our story is the story of children, of families and communities who all share the dream to inspire kids to love to read and to love to learn. My hope is this documentary will encourage more towns, more states and even more countries to jump onboard. One thing is for sure, I think this is the best investment I have ever made!"
Dolly created the Imagination Library to inspire a love for books and reading amongst the nation's preschool children. Since its inception in 1995, the Imagination Library has grown into a global endeavor and recently hit a new milestone, gifting its 150 millionth book. The Imagination Library is currently gifting books to 1.7 million children around the world each month. This spring, Dolly participated in a weekly bedtime reading series, "Goodnight With Dolly," presented across Facebook and YouTube which garnered more than 15 million views, exceeding all expectations.
On December 11, the film and the conversation with Dolly Parton will be released nationwide as a Watch Now @ Home Cinema Release, and in early 2021 across multiple digital platforms. Evan Saxon, Head of Music at Abramorama stated,
"Dolly Parton is an amazing human, extremely generous in her time and resources, and the world is in a much better place because of her. Everybody at Abramorama is honored to be part of the team to bring this heart-warming documentary about Dolly Parton's Imagination Library to fans around the world."
About The Documentary
"The Library That Dolly Built," directed and produced by journalism professor and director of Land Grant Films Nick Geidner, and narrated by Danica McKellar, goes behind the scenes of Dolly Parton's Imagination Library, to show how one of the most famous and beloved performers in the world has partnered with thousands of local community organizations to develop an efficient and effective program for spreading the love of reading. Imagination Library started as a gift for the children in Dolly's hometown, Sevierville, Tennessee, and is now active in all 50 states, and 5 countries, gifting 1.7 million free, age-appropriate books to children every month. The film also provides a glimpse of the profound impact the Imagination Library has on the people through original interviews with authors, policymakers, Imagination Library staff, recipients, and the legend herself, Dolly Parton. Woven throughout the film is a biographical sketch of Dolly Parton, featuring rare photos and films from her childhood. Unlike most biographies of Dolly, it doesn't focus on her music. Instead, it demonstrates that at every point in her career, any time she has had success, Dolly Parton has come back to Sevierville to give back to her people.