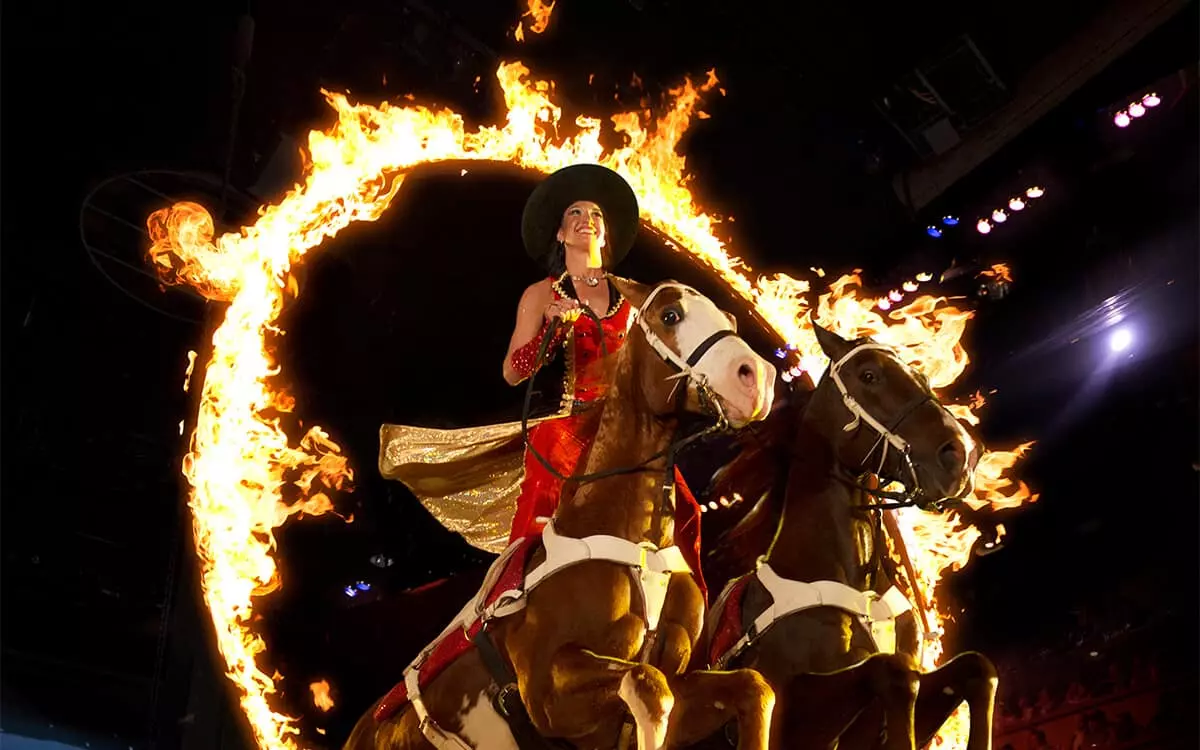 What Makes Dolly Parton's Stampede in Branson Great for Couples?
We've told you about everything that makes our show a top attraction for families, but did you know it's a great date night activity, too? When you want to share a fun evening with your sweetheart, plan a visit to Dolly Parton's Stampede! It will be a date you'll remember for years to come. To learn more, take a look at what makes Dolly Parton's Stampede in Branson great for couples:
1. Both Dinner and a Show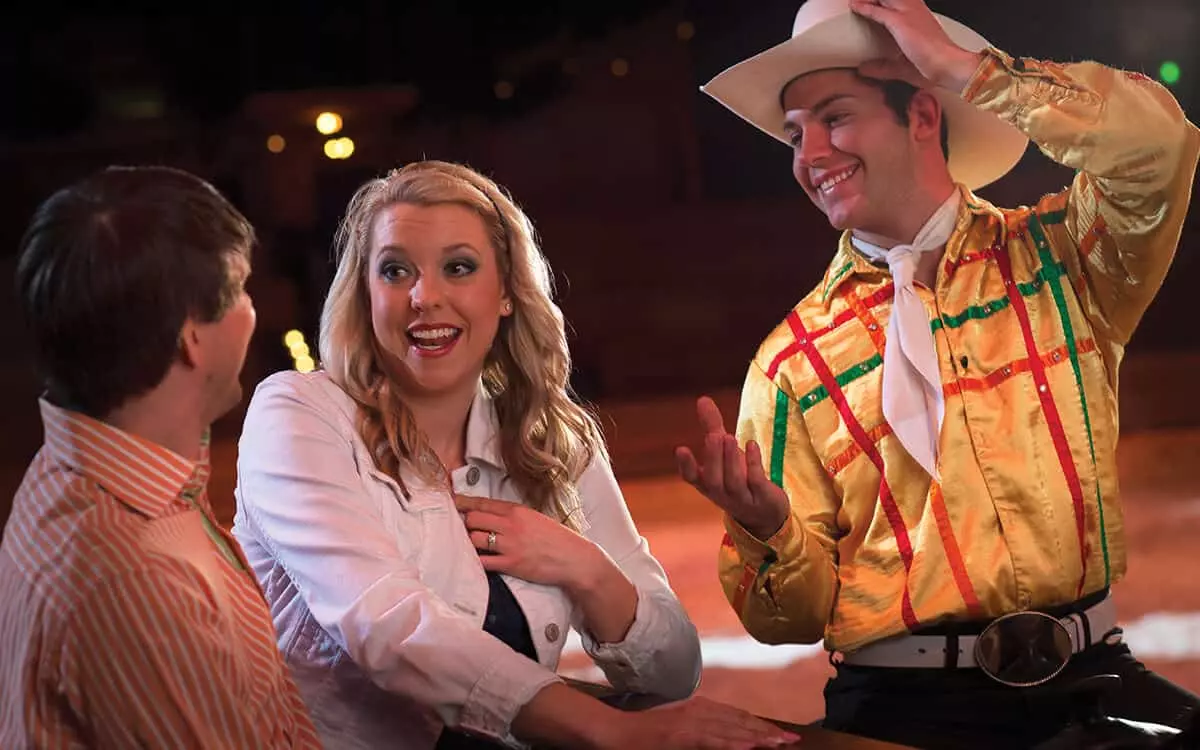 Planning the perfect date night is easy once you decide to come to Dolly Parton's Stampede! Our dinner attraction includes both a delicious meal and an entertaining show. Avoid the always difficult decision of deciding where to eat together and instead enjoy a four-course dinner that will satisfy any appetite. The meal includes creamy vegetable soup, a homemade biscuit, a tender whole rotisserie chicken, a hickory-smoked barbecued pork loin, buttery corn on the cob, an herb-basted potato, a specialty dessert, and unlimited Coca-Cola, tea, or coffee. Plus, while you eat, you can watch our incredible show. It's dinner and fun all rolled into one eventful evening.
2. Great Memories
There's nothing better than making memories with the one you love! Dolly Parton's Stampede in Branson is a top choice for couples because it allows them to do just that. From the moment you arrive, you'll know you're in for an evening you won't soon forget. Whether you're snapping pictures at the Horse Walk, being mesmerized by our talented performers, or tapping your feet along to our incredible musical productions, you'll love being able to share the experience with each other.
3. Not a Moment of Boredom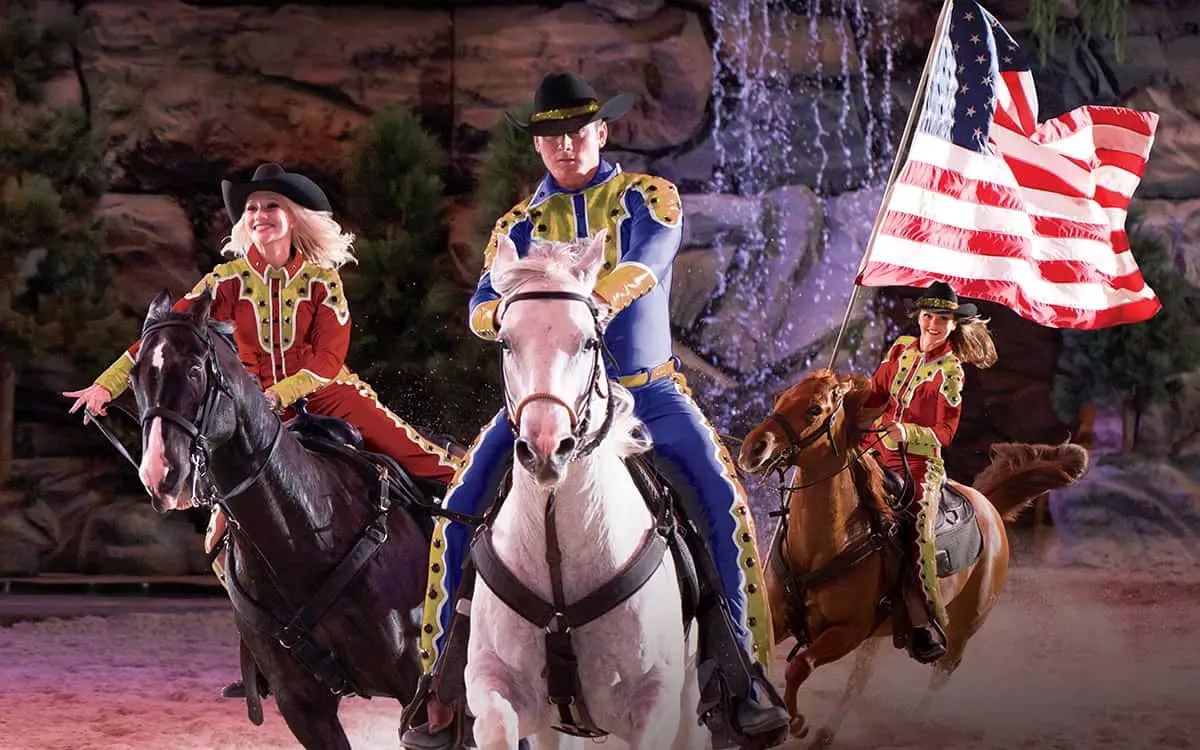 One thing couples love most about our show is that there is never a dull moment! There are no chances to be bored while you're at the Stampede. Your fun experience begins as soon as you arrive! Our Horse Walk gives couples the opportunity to meet and take pictures with our 32 magnificent horses before the show begins. Then, you can take your seats in our 35,000 square foot arena and get ready for more action. First, you'll be served our delicious four-course feast, then you'll watch trick riding stunts at top speed, stunning special effects, phenomenal musical productions, and more. The performance ends with a patriotic grand finale, during which the talented riders and their horses gather in the center for a red, white, and blue salute to the spirit of America, featuring a Dolly Parton original song, recorded exclusively for her Stampede! You'll be entertained from beginning to end.
4. Something for Everyone
Agreeing on the best date night activity is easy when you're in Branson! Whatever you're in the mood for, our show has something for everyone. Enjoy music, comedic fun, thrilling stunts, live animals, and more. You can never go wrong with choosing to visit Dolly Parton's Stampede with your sweetheart. It's the perfect combination of food, fun, and excitement.
Are you ready to make memories that will last forever at Dolly Parton's Stampede in Branson? We can't wait to have you join us for your next date night! Take a look at our show schedule and plan the perfect visit as a couple.