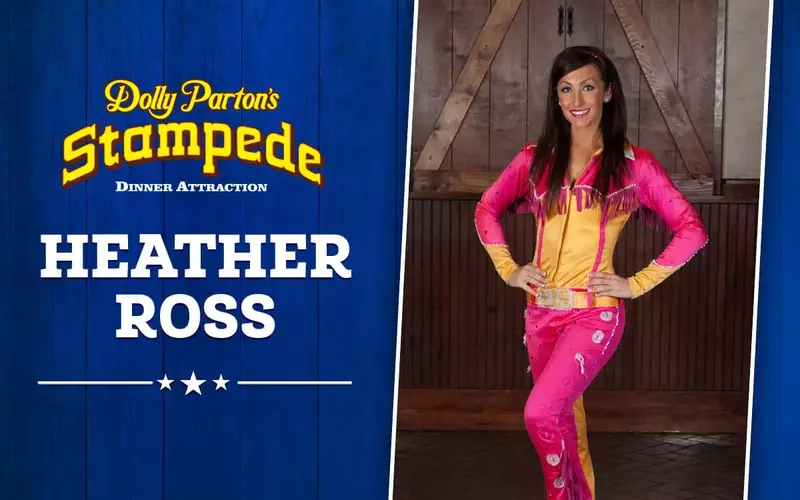 Trick Rider, Dancer and Professional Bird Trainer – Heather Ross - Branson, MO
Bloomfield Native, Heather Ross, Entertaining Hundreds Of Thousands In Branson
Heather Ross, a native of Bloomfield, is celebrating her 14th season at the world's most visited dinner attraction, Dolly Parton's Stampede in Branson, MO, performing for hundreds of thousands of people from around the world.
Ross wears many hats at the Stampede; trick rider, dancer and professional bird trainer. Among her many accomplishments, she trains over 100 pigeons.
"Training animals with wings teaches you patience and creative communication," said Ross. "You have to figure out a way to communicate with them. It can't be forced, they must learn to trust me."
Ross grew up in rural Bloomfield doing gymnastics and cheerleading. Her parents had horses and made time as a family to ride. The sense of family and being in front of crowds prepared Ross for her role at Stampede.
"It's all about the people," Ross stated. "I used to love the spotlight but my focus over the years has changed. I've grown. Now I love the impact we have on people's lives, the sell-out crowds, just being able to touch that many people. Their visit may be that one good thing for their month or year. It's awesome to see peoples' reactions."
Ross trick rides atop Gator. She continued,
"Gator is a rock star! He has the biggest heart and gives 100% every day. I even taught him how to smile."
About Stampede
Dolly Parton's Stampede is a unique dinner and show experience. Set in a giant 35,000-square-foot arena, the show features 32 magnificent horses. Guests experience the amazing Roman Ride of Fire, Stampede of the Buffalo, thrilling horsemanship, pageantry, romance and patriotism, all showcased in a friendly rivalry and served with a fabulous four-course feast.