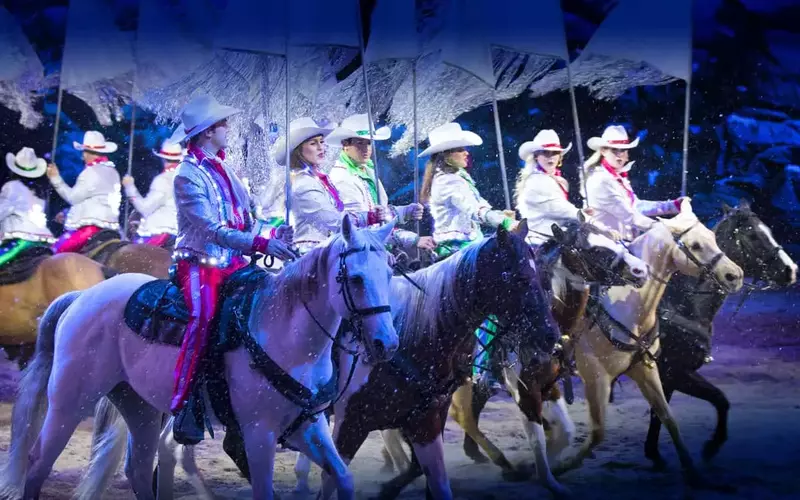 Experience Christmas at Dolly Parton's Stampede in Branson
Christmas at Dolly Parton's Stampede Begins October 24, 2019, in Branson
Experience Branson's #1 Choice For The Holidays as the Stampede cast, including thirty-two magnificent horses, takes you on a nostalgic holiday trip with friendly competition. Enjoy your favorite holiday songs and the excitement of Christmas at Dolly Parton's Stampede from October 24, 2019, until January 4, 2020, so book your tickets now and celebrate a family tradition!
Spectacular Live Nativity
Our live nativity is both dramatic and spectacular. Three kings arrive atop real camels while shepherds guide their flock, all reminding you of the true spirit of the season. The stunning beauty of angels ascending from above will amaze you as the songs inspire audience members of all ages.
Experience the Magic of Toys and More
Watch in wonder and delight as our Sugar Plum Fairy brings to life the spectacle of "Living Toys" right before your eyes! While cheering on your favorite elf in a friendly rivalry, you too could become part of the show. In addition to the excitement and surprises of the Stampede, no Christmas experience is complete without an appearance from St. Nick! Young and old alike await the arrival of Santa atop his authentic sleigh full of goodies.
Adagio On Ice
Watch on as world-renowned ice skaters Anasztazia Kenyeres and Matthew Scoralle bring a touch of grace to our holiday show with their special presentation, "Adagio On Ice"!
The Stampede Christmas Experience
The excitement begins before you even step foot in the door! Take a stroll down the beautiful Horse Walk and meet the 4-legged stars of the show, our 32 magnificent horses. Then head inside for a lively Holiday entertainment in the Saloon Pre-Show, featuring the music and comedy of the White River Wranglers. While in the Saloon, you may purchase buttery popcorn and enjoy a festive soft drink in a keeper Souvenir Bootmug or Hurricane glass.
The Stampede arena is magically transformed into a true fantasy land complete with twinkling lights, evergreens, poinsettias, old-fashioned holiday costumes, and familiar holiday music. But no show is complete without fun and games! The holiday festivities get playful as Elves from the North Pole and the South Pole compete in a friendly rivalry while serving up a four-course holiday feast!
Visit Branson's #1 Choice For The Holidays and make it your family tradition!