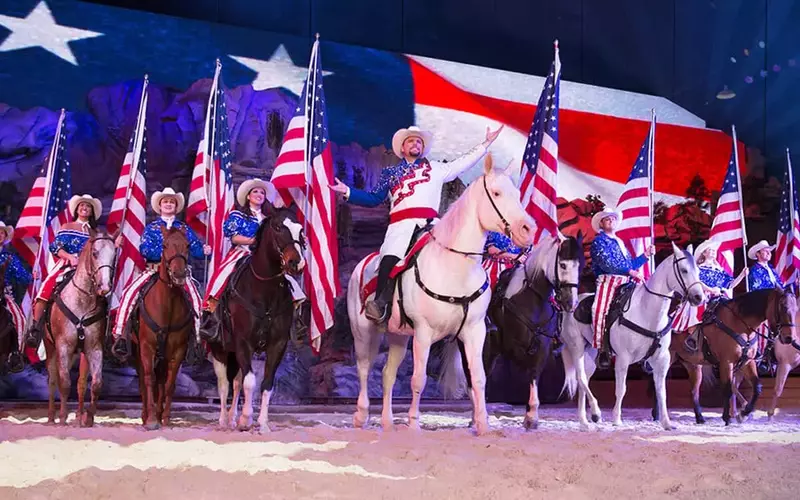 Treasured Memories And Family Traditions Are Made Here - Branson, MO
Family traditions start at Dolly Parton's Stampede in Branson, MO.
Timeless family memories are among our most treasured possessions. From vacations spent exploring old favorites to new experiences that end up becoming lasting traditions. Here at Dolly Parton's Stampede in Branson, MO, we strive to create the perfect experience for family fun and making the perfect memory!
Visitors at Dolly Parton's Stampede seem to have their own explanation when asked: "what's the best part of the show?" Of course, dinner is bound to be the answer for many; with a four-course feast that is both plentiful and delicious, this meal is truly one of the show's biggest stars. The 32 magnificent horses and the talented cast of riders often take #1 on the audience favorite list. From the dazzle of the Roman Ride of Fire to the elegance of "square dancing" on horseback, the equine stars and equestrians bring a wow factor not found in any other show anywhere. There's also singing and dancing, longhorns and buffaloes, those majestic live animals that once roamed the Great American West. There's comedy that will make you laugh out loud, some good old-fashioned competition and a patriotic salute including music by everyone's favorite star, Dolly Parton, that's a must-see event for families visiting Branson.
Plan to arrive an hour before the main arena spectacular, stroll the beautiful horse walk and meet the 4-legged stars of the show. Then enjoy even more surprises in the Carriage Room. This music and comedy pre-show will have you clapping your hands and tapping your toes to the funnest blend of country and bluegrass music around.
Altogether, Dolly Parton's Stampede gives your family an experience full of tradition, laughter, amazement and fun that they will cherish a lifetime.