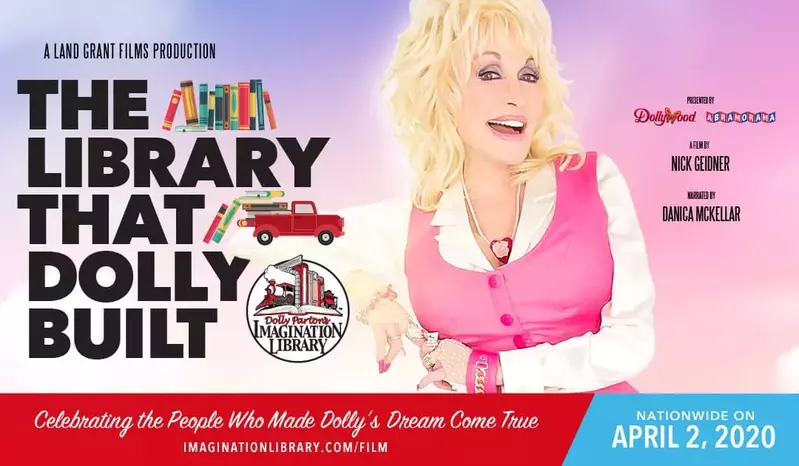 Film About Dolly Parton's Imagination Library Premiering April 2
Dolly Parton's Stampede shares in the excitement of the Imagination Library's new documentary, "The Library That Dolly Built"
For years, Dolly Parton's Stampede has been a proud partner of Dolly's book gifting program, the Imagination Library. Now, Dolly Parton's Imagination Library is heading to the big screen in a new feature documentary film, "The Library That Dolly Built."
Dolly created her Imagination Library to inspire a love for books and reading amongst the nation's preschool children. Since inception in 1995, the Imagination Library has gifted more than 135 million books to children and is currently gifting books to 1.45 million children around the world each month.
Dolly Parton's Stampede in Branson serves as the local affiliate to Stone and Taney Counties, MO. There, the program currently sends free books to over 2,000 registered children each month. In Sevier County, TN, where Dolly originally launched the program, The Dollywood Foundation serves as the local affiliate and oversees the entire program while Dolly Parton's Stampede in Pigeon Forge serves as an annual contributor and community supporter.
"The Library That Dolly Built"
"The Library That Dolly Built," directed and produced by journalism professor and director of Land Grant Films Nick Geidner, and narrated by Danica McKellar, goes behind the scenes of Dolly Parton's literacy-focused non-profit, Imagination Library, to show how one of the most famous and beloved performers in the world has developed an efficient and effective program for spreading the love of reading. Imagination Library started as a gift for the children in Dolly's hometown, Sevierville, Tennessee, and is now active in all 50 states, and 5 countries, gifting 1.45 million free, age-appropriate books to children every month. The film also provides a glimpse of the profound impact the Imagination Library has on the people through original interviews with authors, policymakers, Imagination Library staff, recipients, and the legend herself, Dolly Parton. Woven throughout the film is a biographical sketch of Dolly Parton, featuring rare photos and films from her childhood. Unlike most biographies of Dolly, it doesn't focus on her music. Instead, it demonstrates that at every point in her career, any time she has had success, Dolly Parton has come back to Sevierville to give back to her people.
Premier Events Benefit Imagination Library
"The Library That Dolly Built" will premier in over 300 theaters nationwide on April 2, 2020. The Imagination Library affiliates screening the film during the premier will receive 50% of box office proceeds to further their year-round efforts, so find a screening near you and get your tickets to support this wonderful program!