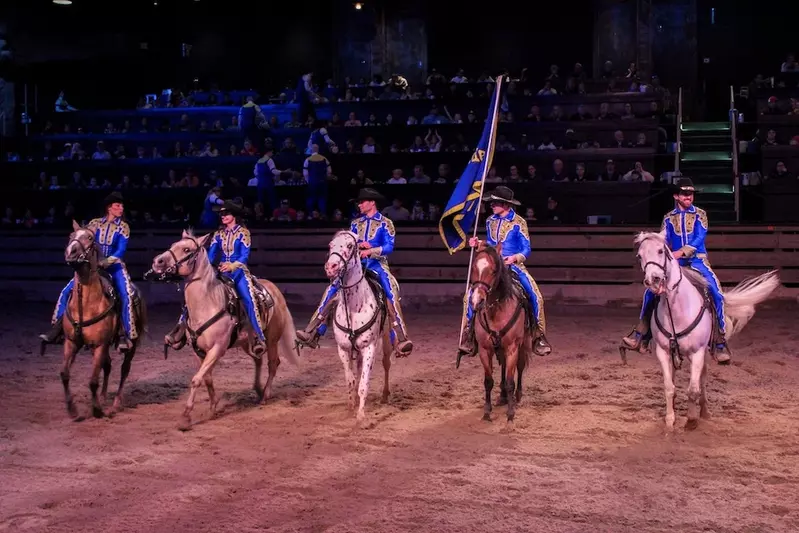 Your Guide to the Best Shows in Pigeon Forge
When you're looking for non-stop entertainment, there's no better place to be than Pigeon Forge! This town is bustling with excitement and family-friendly attractions. One of the most popular things to do for any age is to see a show. Pigeon Forge is home to several great options for an evening of fun. To help you decide where you should go while you're in town, we've created a guide to the best shows in Pigeon Forge:
Best Show for a High-Spirited Adventure:
Are you in the mood for a high-spirited adventure? Visit us at Dolly Parton's Stampede in Pigeon Forge! Our dinner show in Pigeon Forge features 32 magnificent horses and a cast of talented trick riders, along with some friendly competition. Enjoy stunning musical productions, spectacular special effects, aerial performances, and more. The best part is that while you watch, you'll be feasting on a delicious four-course meal that will satisfy all your country cravings. The feast includes Our Own Original Creamy Vegetable Soup, a Hot Homemade Biscuit, a Tender Whole Rotisserie Chicken, a Hickory-Smoked Barbecued Pork Loin, Buttery Corn on the Cob, an Herb-Basted Potato Wedge, a Hot Flaky Apple Turnover, and unlimited Coca-Cola®, tea, or coffee.
Best Show for Pirate Fun: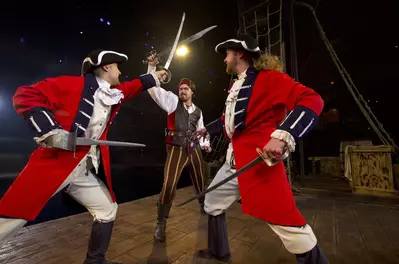 Would you love to set sail in the heart of the Smokies? Visit Pirates Voyage Dinner & Show! This is one of the best shows in Pigeon Forge for an action-packed evening. There won't be a minute of boredom while you're there. Watch as Captain Blackbeard and his quartermaster, Calico Jack, lead the Crimson and Sapphire crews in a battle for the coveted treasure. The pirates battle on land, on deck, in water, and in the air! Beautiful mermaids, tropical birds, daring dogs, and a salty sea lion also join in on the excitement. While watching the pirate adventure, you'll be eating a feast fit for the hungriest of pirates! It includes a Buccaneer Biscuit, Voyager Creamy Vegetable Soup, Cracklin' Pan-Fried Chicken, Swashbucklin' Sugar-Cured Ham, Cob-O' Buttery Corn, a Pirate Herb-Basted Potato, a Walk the Plank Specialty Dessert, and unlimited Coca-Cola®, tea, or coffee.
Best Show for Hilarious Hillbilly Antics:
In the mood for some feuding, feasting, and family fun? The Hatfield & McCoy Dinner Feud is the best show in Pigeon Forge for you! You can become a part of the longest running feud in history as you watch the Hatfields and McCoys try to settle their differences mountain-style. The show features singing and dancing, mighty feats of strength, jaw-dropping stunts, and side-splitting comedy. You'll also get to witness dogs and hillbillies show off their diving skills in the swimming hole, and experience high-flying fun with the billycopter! As for dinner, guests will get to enjoy an all-you-can-eat Southern homestyle feast of Feudin' Fried Chick'n, Open Pit Pulled-to-Pieces Pork Barbeque, Southern Style Creamy Soup, Smashed Mashed Taters, Buttery Corn on the Cob, Ma's Hot Homemade Bread, No Tellin' What's In It Coleslaw, Granny's Famous Specialty Dessert, and unlimited Coca-Cola®, tea, or coffee.
Best Show for Award-Winning Comedy: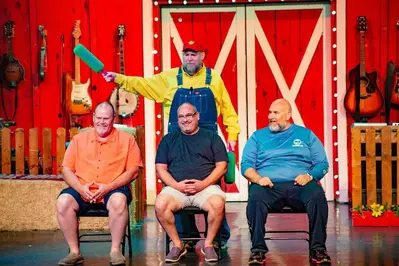 For the most hilarious show in the Smokies, visit The Comedy Barn Theater! This theater is home to the most successful and most attended clean comedy show in the world. Bring the whole family along to laugh the night away with fun barnyard animals, jugglers, ventriloquists, comedians, and live country and gospel music! You're guaranteed at least one laugh every minute during this 90-minute show. One thing that makes it one of the best shows in Pigeon Forge is the audience participation. You might be one of the lucky ones pulled on stage to participate in an act, making the evening even more special. The audience participation portions of the show makes every evening at The Comedy Barn unique!
Now that you know more about the best shows in Pigeon Forge, it's time to start planning your visit to one of them! Take a look at our Dolly Parton's Stampede show schedule, and get your tickets today.