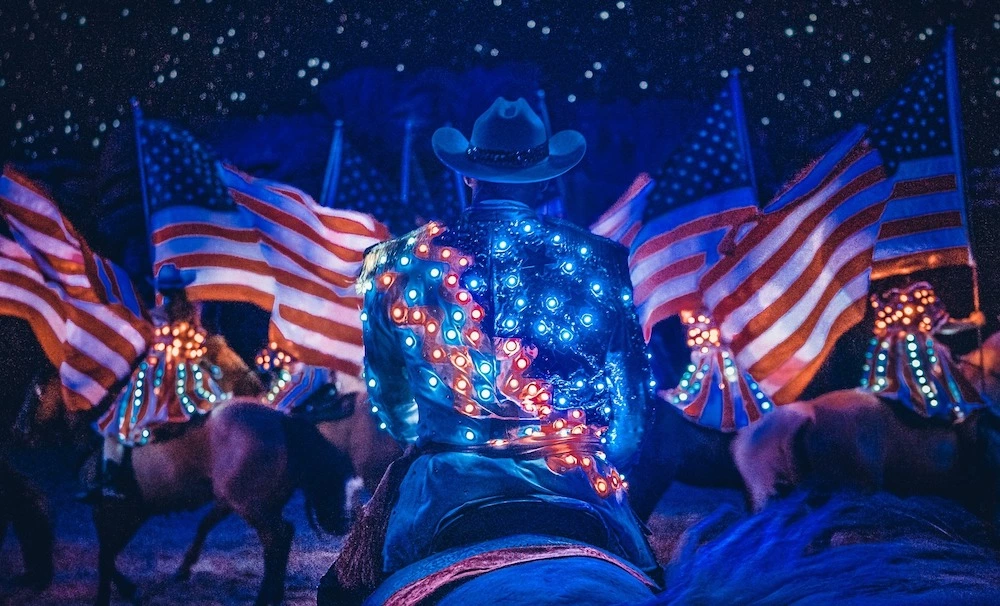 Dolly Parton's Stampede Returns for 36th Season of Fun and Adventure
Spectacular equestrian feats, vibrant music and storytelling, comedic escapades, exciting audience interactions and a delicious four-course feast are the hallmarks of Dolly Parton's Stampede that guests have been enjoying for more than three decades. Opening for its 36th season on February 10, the entertainment attraction known as "The Smokies Most Fun Place To Eat" features an exciting line-up that provides an unmatched show combined with a delicious dining experience
The 2023 season is highlighted by an all-new thrilling and moving performance segment that combines the show's equestrian stars, breathtaking aerial acrobatics and new music. This addition multiplies the excitement at the dinner show, as the performers' aerial talents take them to new heights high above the arena floor.
The Stampede experience actually begins for guests before they even enter the main arena. Visitors can get up close and personal with some of the show's "mane" stars at the Horse Walk. Everything in Dolly Parton's Stampede dinner and show – from the first feat of the talented and majestic equestrian performers to the last bite of the delicious four-course feast – is bigger than life. Guests enter the 35,000 square-foot arena where the main show begins with the cast leading the show's 32 magnificent horses through a series of truly extraordinary equestrian feats. Thanks to a state-of-the-art LED backdrop wall, guests are immersed into an experience set in America's Great Plains of yesteryear, where live buffalo and thundering longhorns roam and settlers bring the American West to life. With singing, dancing, special effects, aerial acts and impressive displays of horse-riding skills, guests truly feel like they are on the American frontier and then nestled under the stars in the Great Smoky Mountains.
Guests are encouraged to laugh and enjoy as they are treated to Stampede's delicious four-course family feast which includes their original creamy vegetable soup, a homemade buttery biscuit, a whole rotisserie chicken, hickory-smoked barbequed pork loin, buttery corn on the cob, herb-basted potato, Stampede's own specialty dessert and unlimited beverages including Coca-Cola® products, tea and coffee. Vegetarian, vegan and gluten-free meals available upon request.
"Our combination of having dinner and a show together was the first of its kind here in the Smoky Mountains, and our visitors love having the ability to make a reservation in advance to the show of their choice," said Travis Randall, Stampede's General Manager. "One of the great benefits of making us part of your Pigeon Forge visit is that you are booked for the show time you select, and your four-course dinner will be served soon after you are seated. Millions of guests have now enjoyed our unique entertainment experience for the past 35 years; they love that in addition to an amazing four-course feast on a special night out, they get an incredible show as well. And the new aerial element adds even more entertainment to the already exciting Stampede experience."
Known as "The Smokies Most Fun Place To Eat," Dolly Parton's Stampede features an exciting line-up that provides an unmatched show combined with dinner experience. The result is entertainment that is the highlight of any getaway or night out, and the unique dinner show is known for creating memories for its guests that they will hold onto for a lifetime.
Show times and reservations are available by calling 865-453-4400 or visiting our website.