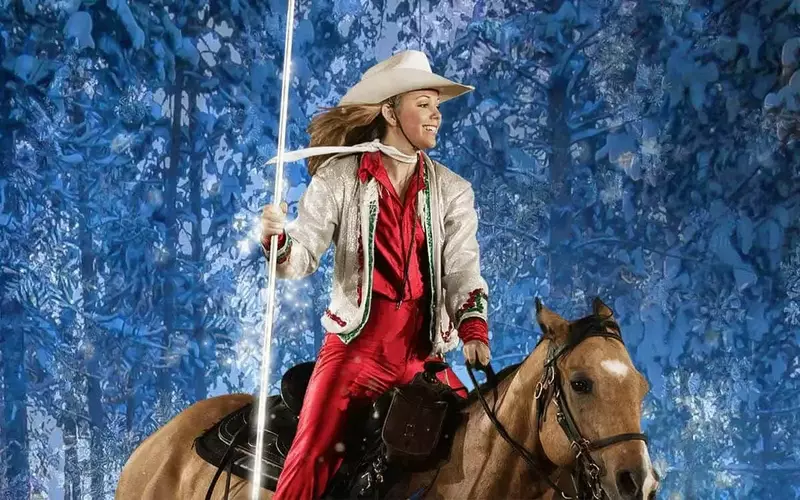 Saddle Up for an Unforgettable Holiday Season at Dolly Parton's Stampede
Christmas time is here, and the world's most visited dinner attraction is decking the halls and preparing its equestrian stars and performers to celebrate the spectacular "Christmas at Dolly Parton's Stampede" beginning October 26. The Stampede dinner show will transform into an alluring holiday extravaganza including a full-scale living Nativity, holiday décor, seasonal music, a Santa Claus sighting and a fabulous four-course holiday feast. Gallop into the magical world of Christmastime at Stampede, where holiday cheer, incredible performances and mouthwatering cuisine come together for an unforgettable celebration of the season.
"There is no better way to celebrate the holidays than bringing your family to Christmas at Dolly Parton's Stampede," said Bryan Cossiboom, General Manager. "The sounds of the season and our talented cast make this show a place for families and friends to make memories and enjoy this special time of year together. It also allows us to share and celebrate the holiday's true meaning with a full-scale living Nativity that will transport guests back to that first Christmas so long ago. We love hearing so many families tell us that this show has become a treasured part of their annual holiday traditions."
Stampede's Christmas celebration is a jam-packed whirlwind of fun and festivities, bringing the wonder of the holiday season to life. This Christmas spectacular features excitement for the entire family with the "Magic of Toys" musical production starring the Sugar Plum Fairy, as she brings toys to life in a whimsical aerial display set to "The Nutcracker Suite." North Pole and South Pole elves compete in friendly "reindeer games," allowing audience members to cheer for their respective sides. A living nativity scene reminds guests of the true meaning of Christmas, with the birth of Jesus re-enacted with Mary, Joseph, the wise men atop camels and shepherds leading donkeys and their flock of sheep. Of course, no Christmas is complete without an appearance by Santa; Jolly Old St. Nick arrives in his sleigh of goodies as the Stampede's arena is transformed into a winter wonderland of fresh fallen snow.
Making its first appearance this year and joining the holiday festivities is a stunning new production featuring the show's equestrian stars and breathtaking aerial acrobatics. Guests will watch in amazement as these talented entertainers perform jaw-dropping stunts to the tune of original music from Dolly herself during this captivating holiday segment.
The Christmas celebration is complemented by a four-course holiday feast featuring a whole rotisserie chicken, hickory-smoked barbecue pork loin, herb-basted potato, buttery corn on the cob, creamy vegetable soup, homemade biscuit, a special holiday dessert and unlimited Coca-Cola® products, tea or coffee. Vegetarian and gluten-free meals are available by request.
"Christmas at Dolly Parton's Stampede" in Branson begins October 26 and continues through January 6. For more information, call (417) 336-3000 or get your Christmas show tickets today.