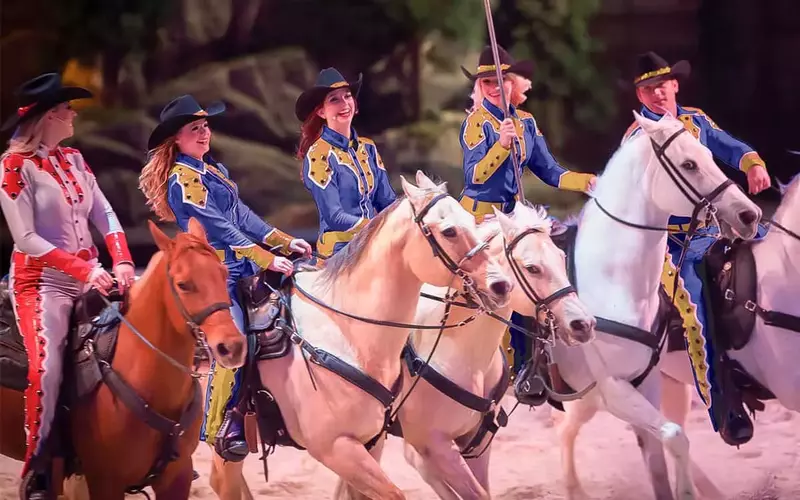 5 Things That Make Our Dinner Show in Pigeon Forge Special
Dolly Parton's Stampede is one of the most popular shows in Pigeon Forge, and for good reason. For years, guests have been visiting our theater with the expectations of a night filled with non-stop entertainment, and we always deliver. To help you learn more, we've put together a list of the top 5 things that make our dinner show in Pigeon Forge special:
1. Our Talented Horses and Riders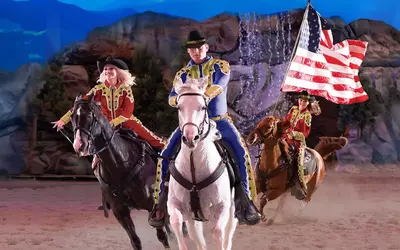 2. Our Delicious Feast
You'll want to bring your appetite when you come to our show because we offer guests a delicious, four-course feast. Our signature feast includes our famous creamy vegetable soup, a homemade buttery biscuit, a whole rotisserie chicken, hickory-smoked barbecue pork loin, buttery corn on the cob, herb-basted potato, a specialty dessert and unlimited beverages, including Coca-Cola products, tea, and coffee. Vegetarian, vegan, and gluten-free meals are available upon request. If you love our soup as much as everyone else, you'll be happy to know you can order our soup mix online and make it at home!
3. Over 30 Seasons of Fun
![Dolly Parton's Stampede](https://dpstampede.com/wp-content/uploads/2021/11/Q3.Stampede.Blog_-300x188.png)Part of what makes our show so special is that we've been wowing visitors for over 30 seasons. 2022 marks our 35th season of fun and adventure in Pigeon Forge. For more than 30 years, we've been providing visitors with an incredible show experience that includes a delicious meal, some friendly competition, incredible horse-riding stunts, comedic elements, and singing and dancing. When you come see our dinner show in Pigeon Forge, you're guaranteed an unforgettable night.
4. Our Special Effects and Displays
Dolly Parton's Stampede is far from your typical show — we use special effects and incredible displays that fully immerse the audience in the performance. Our special effects and impressive displays of horseback riding skills are intended to make guests feel like they are on the American frontier. Nothing will compare to getting to enjoy our world-class production with your family and friends!
5. Our Grand Patriotic Finale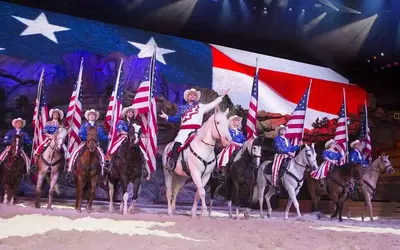 You don't want to miss the opportunity to see our dinner show in Pigeon Forge while you're in town! Take a look at our show schedule and get your tickets today. We look forward to you seeing what makes Dolly Parton's Stampede special!