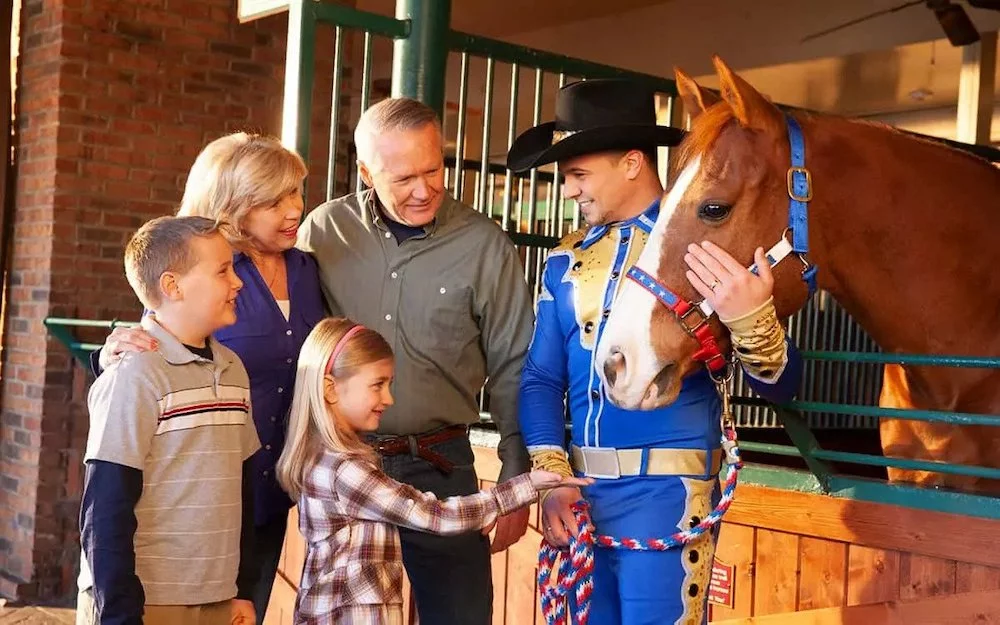 5 Things to Do in Pigeon Forge for Kids
Pigeon Forge is one of the most visited family vacation destinations, and it's not hard to understand why! The city is overflowing with opportunities for fun for all ages. From exciting dinner attractions to outdoor adventures, kids love everything that Pigeon Forge has to offer. With so much to do, it may be hard to decide what to fit into your vacation. To help you plan, we've made a list of 5 things to do in Pigeon Forge for kids.
1. Dolly Parton's Stampede
Of course, one of the top things to do with kids in Pigeon Forge is visit our dinner attraction! Dolly Parton's Stampede is the most fun place to eat in the Smokies! The fun and excitement begins before the show with our Horse Walk. Kids love getting up close to our four-legged stars of the show and learning more about them before watching them in the arena. We also offer a mouthwatering feast that will satisfy kids of all ages! Enjoy a tender whole rotisserie chicken, creamy vegetable soup, and more — and don't forget the kids' favorite part: dessert! You won't have to worry about the kids being bored while they eat either because their eyes will be focused on the middle of our arena, where 32 beautiful horses and a cast of talented trick riders show off their skills in a performance that features friendly competition, thrilling stunts, musical productions, and more. Be sure to stop by the gift shop on the way out to get your kids a plush horse like the ones they just saw perform!
2. Dollywood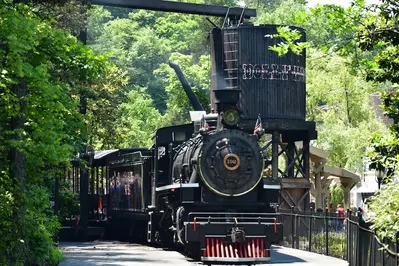 Dollywood is one of the most popular theme parks in the country, and it features fun for all ages! We're sure you've heard of all the high-thrill roller coasters, but there's plenty of fun for families as well. There are kid-friendly rides like Black Bear Trail, Frogs & Fireflies, and so many more. They'll also love playing games in the Country Fair section of the park and enjoying play areas like Firehouse Fun Yard and Hidden Hollow. Your visit to Dollywood wouldn't be complete without taking a ride on the Dollywood Express, a 20-minute scenic journey through the foothills of the Smoky Mountains!
3. Visit The Comedy Barn
Kids love to laugh, and there's no better place to do that than The Comedy Barn in Pigeon Forge! This theater offers clean comedy that kids, parents, and even grandparents can enjoy. The show features comedians, singers, dancers, jugglers, ventriloquists, and even barnyard animals! You're guaranteed a night of a thousand laughs when you visit this show. As a bonus, a few lucky kids have the opportunity to get pulled on stage and participate! Don't miss the chance to visit the most successful and most attended clean comedy theater in the world while you're in Pigeon Forge.
4. Dine at Frizzle Chicken Café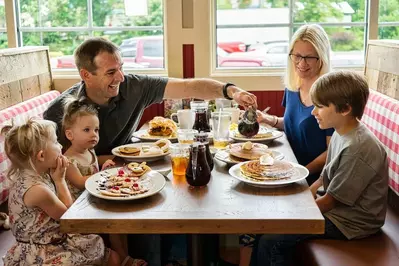 For a one-of-a-kind breakfast with your family, be sure to visit Frizzle Chicken Café! This restaurant is all about food, family, and fun. Located right next door to The Comedy Barn, it features singing animatronic chickens that are sure to keep you entertained while you dine. The menu has delicious Southern-style breakfast and lunch options, but kids especially love the chance to enjoy the special Bear Cakes for breakfast!
5. Drive to the Smoky Mountains
You won't want to leave Pigeon Forge without getting a glimpse of the beautiful Smoky Mountain scenery! We recommend taking a drive to the Great Smoky Mountains National Park. Some popular kid-friendly hikes include the Gatlinburg Trail, Laurel Falls Trail, and Porters Creek Trail. If you don't feel like hiking, go for a scenic drive through Cades Cove for the chance to spot wildlife, historic structures, and gorgeous valley views. You can even pack a picnic lunch to enjoy while surrounded by the beauty of the Smokies.
Now that you know the top things to do in Pigeon Forge for kids, you're ready to start planning the perfect visit! Take a look at our guide to planning your visit to Dolly Parton's Stampede to guarantee you have the best trip.