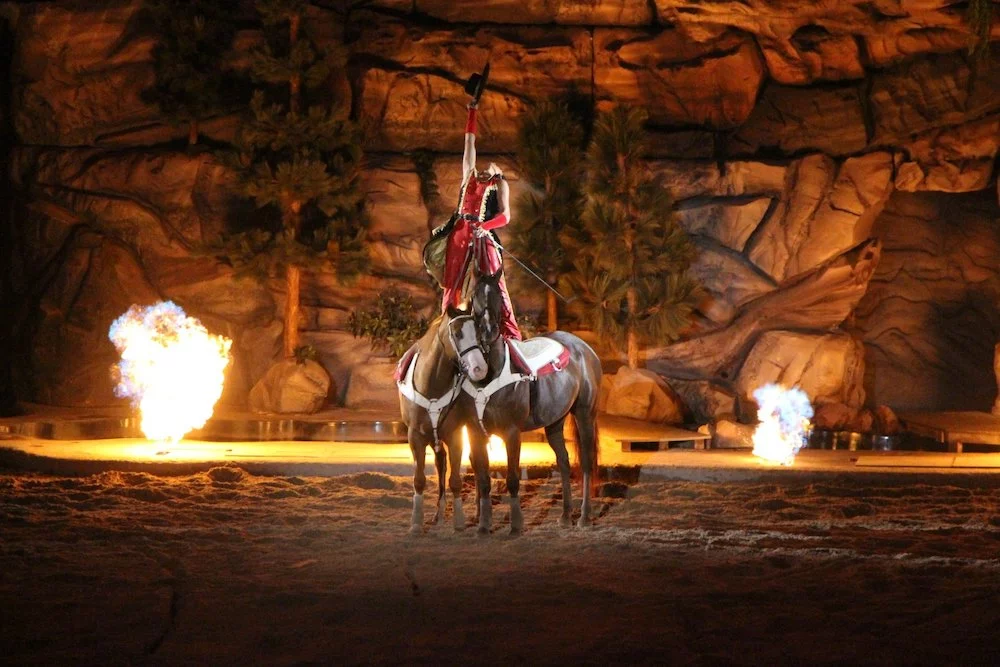 Top 3 Pigeon Forge Dinner Shows for Your Spring Vacation
There's nothing quite like visiting Pigeon Forge in the spring. Wildflowers are blooming in the Smokies, the sun is shining, and some of your favorite attractions are open again! One of the best things to do while you're in town is experience the excitement of a dinner show. Luckily, all the best dinner shows return in the spring season after taking some time off in the winter, so you can make time to see them all on your trip! Here are the top 3 Pigeon Forge dinner shows to see on your spring vacation:
1. Dolly Parton's Stampede
Get ready to "stampede" into spring with a high-spirited adventure at Dolly Parton's Stampede in Pigeon Forge! Our dinner attraction combines thrilling horse riding stunts, spectacular special effects, phenomenal music productions, and impressive aerial performances for a one-of-a-kind show that you'll never forget. Along with the show, you'll get to enjoy a four-course feast as big as the main event. The menu includes creamy vegetable soup, a hot homemade biscuit, a tender whole rotisserie chicken, hickory smoked barbeque pork loin, buttery corn on the cob, an herb-basted potato, and a hot flaky apple turnover. There's also fun for you to enjoy before and after the show! Before, you can take part in the Horse Walk, which gives visitors the opportunity to meet our beautiful horses in their stalls. After, be sure to stop by the gift shop to pick up a souvenir — you can even find some of our signature soup mix to take home with you! You'll love visiting Dolly Parton's Stampede in the spring to be one of the first to enjoy our new season.
2. Pirates Voyage Dinner & Show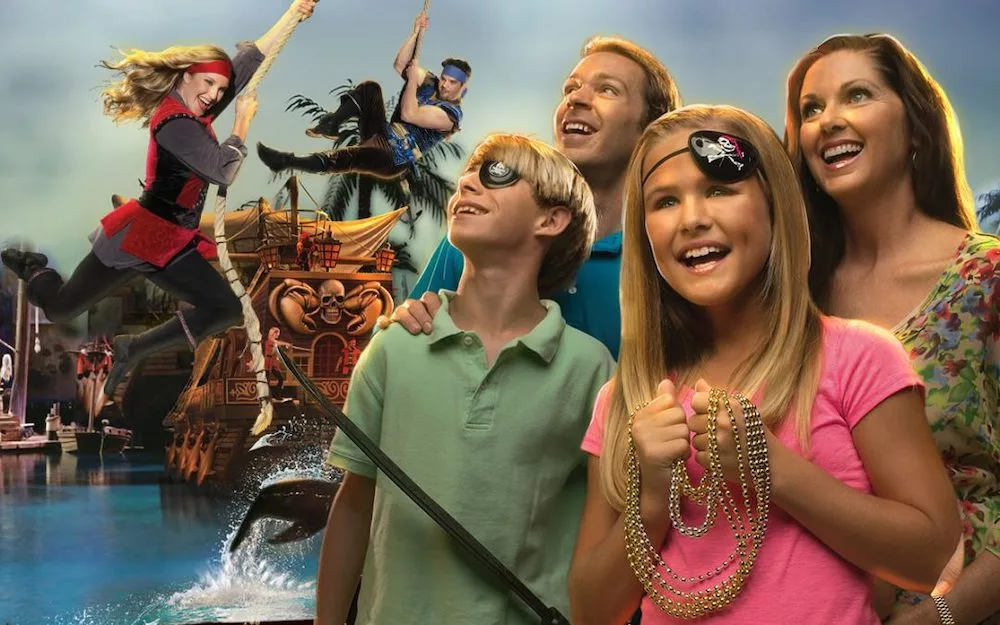 If you want to set sail while in the Smokies, plan a visit to Pirates Voyage Dinner & Show! This is another one of our favorite Pigeon Forge dinner shows because it entertains visitors with an action-packed pirate adventure. Watch as Captain Blackbeard and his quartermaster, Calico Jack, lead the Crimson and Sapphire crews in a battle on land, on deck, in water, and high above their full-sized pirate ships in the indoor hideaway lagoon! This daring and dramatic tale not only features pirates, but beautiful mermaids, high seas escapades and romance, and live animals as well. While you watch the performance unfold, you'll get to feast on a hearty pirate meal that begins with Voyager Creamy Vegetable Soup and Buccaneer Bread. The rest of the dinner includes Cracklin' Pan-Fried Chicken, Swashbucklin' Sugar-Cured Ham, Cob-O' Buttery Corn, a Pirate Herb-Basted Potato, and a Walk the Plank Specialty Dessert.
3. Hatfield & McCoy Dinner Feud
In the mood for a laugh? Head to Hatfield & McCoy Dinner Feud for an evening of feudin', feastin', and fun! At this Pigeon Forge dinner show, you'll become a part of the longest running feud in history as you help the Hatfields and McCoys try to settle their differences mountain-style. The show features singing, dancing, mighty feats of strength, jaw-dropping stunts, and plenty of side-splitting comedy! You'll be amazed by the talents of the high-diving dogs and hillbillies and will love the recent addition of the billycopter, which helps the sheriff keep an eye on the families. While you watch all the hilarious antics, you'll get to feast on an all-you-can-eat dinner that tastes like it came right from Granny's kitchen! It includes Feudin' Fried Chick'n, Open Pit Pulled-to-Pieces Pork Barbeque, Southern Style Creamy Soup, Smashed Mashed Taters, Buttery Corn on the Cob, Ma's Hot Homemade Bread, No Tellin' What's In It Coleslaw and Granny's Famous Specialty Dessert.
You won't want to miss any of these Pigeon Forge dinner shows on your spring vacation! Each new season at the shows listed above provides fun and excitement for visitors of all ages. When you're ready to start planning your trip, take a look at the show schedule for Dolly Parton's Stampede, and get your tickets!