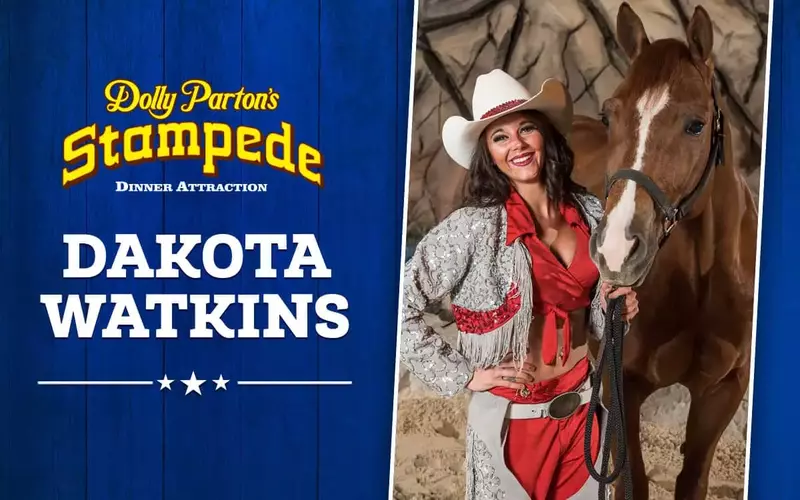 Multi World Champion Rider, Dakota Watkins Joins Cast At Dolly Parton's Stampede In Branson
Dolly Parton's Stampede welcomes Dakota Watkins to the cast of top-notch riders!
Dakota Watkins, from Rogersville, MO, is adding to her impressive horsemanship resume. She started showing horses at four years of age and holds nine world championship titles. She recently joined the cast of Dolly Parton's Stampede in Branson as one of their top-notch riders.
"I love getting the crowd into it, seeing their reaction," said Watkins. "They hoop and holler, it's an experience that everybody should go through once in their lifetime!"
In this new role, Dakota finds herself working her ultimate dream job and riding horses every day.
She continued, "All of Stampede's horses have so much heart and spirit and the cast has become family. The management is really good and makes sure everybody is well taken care of."
Dakota also opened her own horse training business. She loves all things horse and looks forward to furthering her Stampede career.
About Stampede
Dolly Parton's Stampede is a unique dinner and show experience. Set in a giant 35,000-square-foot arena, the show features 32 magnificent horses. Guests experience the amazing Roman Ride of Fire, Stampede of the Buffalo, thrilling horsemanship, pageantry, romance and patriotism. It's all showcased in a friendly rivalry between North and South and served with a fabulous four-course feast.