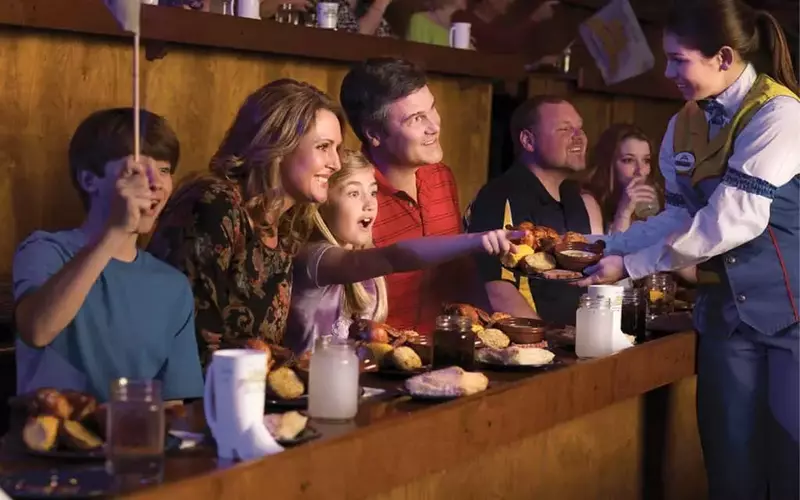 Who Loves Visiting Our Branson Dinner Show the Most?
Our Branson dinner show is great for all ages. We have something for everyone, from kids, to teens, to adults! Any occasion is a great occasion to visit Dolly Parton's Stampede. While everyone loves visiting our world-class dinner attraction, you might be wondering — who loves visiting our Branson dinner show the most? We're here to tell you:
Families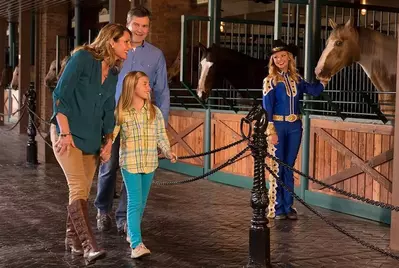 Dolly Parton's Stampede is the world's most visited dinner attraction, and that's partly because of its popularity among families. Branson is a popular destination for family vacations, and we're a top choice for a family-friendly activity in the area. Our show is loved by both kids and parents. Families especially love taking a stroll down our Horse Walk before the show and digging into our four-course feast as the action begins in our arena. You won't have to worry about keeping the kids entertained at a restaurant or struggling to find something that both children and parents can enjoy — just visit Dolly Parton's Stampede!
Field Trips
Looking for the perfect place to take your students? Dolly Parton's Stampede is a great location for a field trip! Our arena can host groups of as many as 1,000 people, so no field trip is too big for our dinner attraction. Everyone will have a great time watching the action unfold in our arena. From horse riding tricks to musical productions, there's something for everyone. We love welcoming groups at Dolly Parton's Stampede, and our group sales department will make sure you have the best field trip when you visit us!
Couples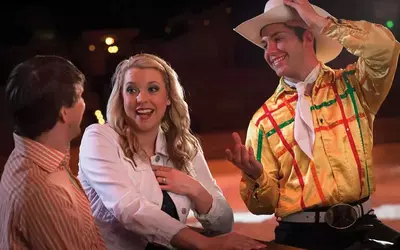 Although we're a family-friendly show, that doesn't mean only families enjoy our Branson dinner show. Couples also love spending an evening at Dolly Parton's Stampede! Dinner and a movie has always been a popular date idea, but why settle for that when you can enjoy a four-course feast and a live performance at our dinner attraction? There won't be a minute of boredom during your date night. Take a souvenir photo with each other in our arena, then pick up matching t-shirts in our gift shop before you leave!
Church Groups
In addition to field trip groups, our Branson dinner show is also popular for church groups. When you're in the area for a church retreat, plan a visit to Dolly Parton's Stampede! Our show can be enjoyed by everyone in the group and is a great way to bond and create unforgettable shared memories. We also offer special pricing for groups of 20 people or more, so we can help you have an affordable trip! In addition to church groups, we love welcoming sports teams, family reunions, choirs, and more. We have the ideal space for special events and will guarantee your group has a great evening!
Visit Our Branson Dinner Show
Do you know who else will love visiting our Branson dinner show? You! Take a look at our show schedule and get your tickets to Dolly Parton's Stampede today.