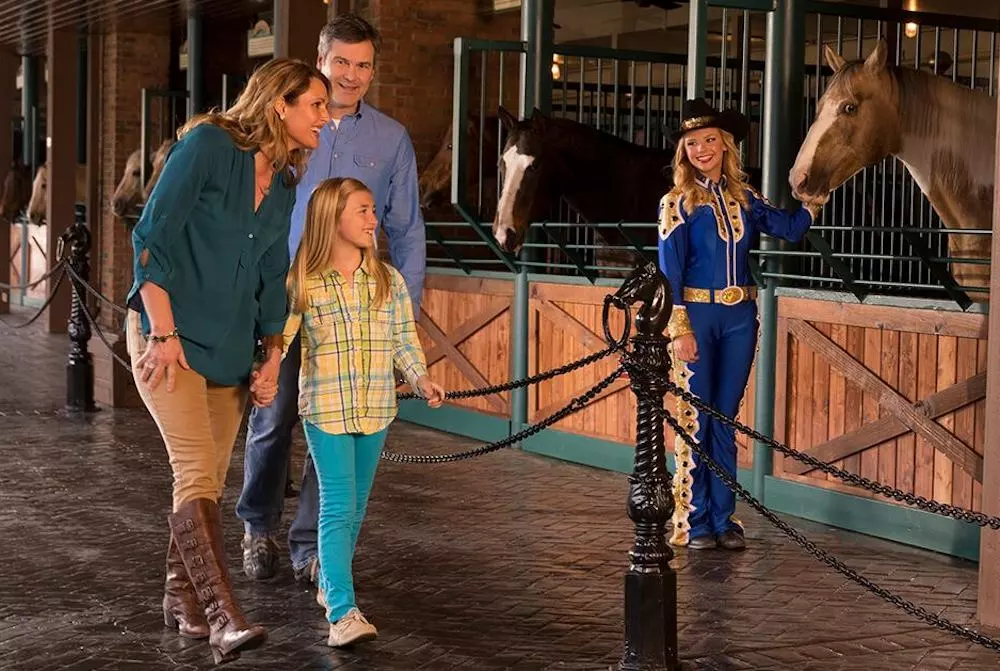 Who Should Visit Our Dinner Show in Pigeon Forge?
Dolly Parton's Stampede is the world's most visited dinner attraction! Are you wondering who should visit our dinner show in Pigeon Forge? The short answer is everyone — our show is great for all ages, from kids to adults. We're breaking it down into groups of who loves our show the most and the benefits of visiting Dolly Parton's Stampede on your family vacation, romantic getaway, or group trip.
1. Families
Our dinner show in Pigeon Forge is a popular activity for family vacations! One of the many benefits is that we provide a delicious meal that the pickiest of eaters will love enjoying, all while watching our high-spirited adventure take place in the arena. You won't have to worry about keeping the kids entertained during the meal, and they'll be talking about the performance long after the evening is over! It's great for all ages, from younger children, to teens, to young adults. Be sure to arrive early to enjoy the Horse Walk, which allows guests to see the four-legged stars of our show up close and get a souvenir photo with them before they show off their talents in our arena. We also have a gift shop where you can find the perfect souvenir to take back home! Kids will love our cowboy hats, toys, and plush animals, while adults will love our apparel, home decor, and our spices and soup mix. Dolly Parton's Stampede is the best place to spend an evening of your family vacation!
2. Couples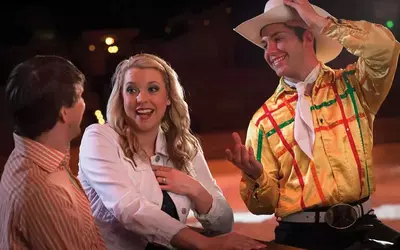 Our show is great for families, but that doesn't mean couples don't love it just as much! Everything's more special when you get to share it with the one you love, and Dolly Parton's Stampede is a top choice for a date night in Pigeon Forge. You won't have to worry about making reservations at a restaurant and searching for something fun to do afterward — come enjoy both dinner and entertainment at our world-class attraction! You'll love digging in while watching 32 beautiful horses and a cast of talented trick riders take the arena by storm. You'll even have the opportunity to purchase a souvenir photo of the two of you in The Stampede so you can remember the evening for years to come!
3. Groups
Looking for the perfect place to visit with a large group in Pigeon Forge? Look no further than Dolly Parton's Stampede! Groups love our dinner show in Pigeon Forge. Not only is it an attraction that entertains guests of all ages, but we also offer special pricing for groups of 20 people or more! We love welcoming school groups, field trips, choirs or bands, church groups, sports teams, and so much more! If you need an exclusive function all to yourselves, you'll have the option to take over our arena and allow us to put on a dedicated show just for your group! We can accommodate groups as large as 1,000 people. For more information, fill out our Groups Form.
About Our Dinner Show in Pigeon Forge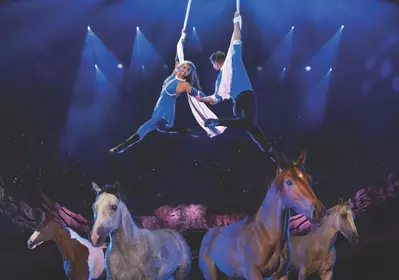 There's a reason Dolly Parton's Stampede is the most fun place to eat in the Smokies. Our show features thrilling horse riding stunts, spectacular special effects, phenomenal music productions, and a mouthwatering, four-course feast that's sure to satisfy all your country cravings! Enjoy incredible aerial stunts, fire tricks, and more. Whether you're visiting with your family, your sweetheart, or a large group, you'll have a great time at our dinner show in Pigeon Forge!
Take a look at our show schedule for Dolly Parton's Stampede and get your tickets to our show today!