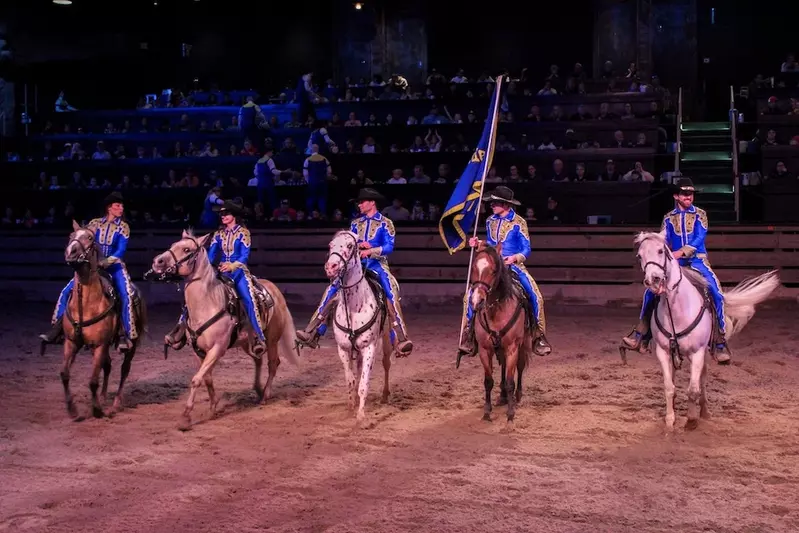 Why Dolly Parton's Stampede Is a Must-See Pigeon Forge Attraction
If you only have time to visit one Pigeon Forge attraction while you're in town, you won't want to miss the chance to visit Dolly Parton's Stampede. It's the most visited dinner attraction in the world, and once you see the show, it's easy to understand why. From our incredible performances to our celebration of family traditions and American patriotism, there is so much to love about Dolly Parton's Stampede. Keep reading to learn more about why our show is a must-see Pigeon Forge attraction.
Most Fun Place to Eat in the Smokies
Don't settle for dinner at a restaurant when you can have a delicious four-course feast while watching an entertaining show at Dolly Parton's Stampede! It's the most fun place to eat in the Smokies. The food will satisfy all your country cravings and remind you of the meals you've shared as a family back home. The feast includes our own original creamy vegetable soup, a hot homemade biscuit, a tender whole rotisserie chicken, a hickory smoked barbecued pork loin, buttery corn on the cob, an herb-basted potato, and a hot flaky apple turnover. You'll also get unlimited Coca-Cola®, tea, or coffee. While you dine, your eyes will be focused on the center of our 35,000 square foot arena, where you'll be amazed by thrilling horse riding stunts, aerial acts, spectacular special effects, phenomenal musical productions, and more.
Great for All Ages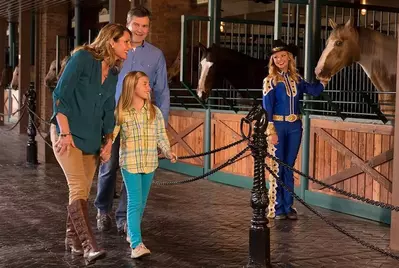 It doesn't matter if you're visiting Pigeon Forge with your sweetheart, your children, or a big group of friends — Dolly Parton's Stampede is entertaining for all ages! From the moment you arrive to the moment you leave, you'll have a smile on your face. Families especially love arriving early to visit the Horse Walk, which gives them the opportunity to meet our four-legged stars before they show off their talents in the arena. There's something for everyone to love at our Pigeon Forge attraction, though! Our dinner attraction features everything from comedy to breathtaking performances that will have you at the edge of your seats.
Performances You Won't See Anywhere Else in Town
Another reason Dolly Parton's Stampede in Pigeon Forge is a must-see attraction is because it has performances you won't see anywhere else in town! One popular act during the show is an amazing aerial performance that combines aerial acrobatics with our equestrian stars and features an original Dolly Parton song. Plus, we can't forget to mention our grand finale, during which both sides come together in a celebration of American patriotism. In addition to all the talented horse riding stunts you'll see throughout the show, you'll also get to see an impressive fire breathing trick, a stampede of buffalo, our comedian Skeeter, and our famous longhorns! The action is never-ending at Dolly Parton's Stampede.
Visit Our Must-See Pigeon Forge Attraction
To guarantee you don't miss a chance to visit our Pigeon Forge attraction while you're in town, get your tickets today! Take a look at our show schedule and choose the date and time for the show you want to see. We look forward to welcoming you to Dolly Parton's Stampede in Pigeon Forge!