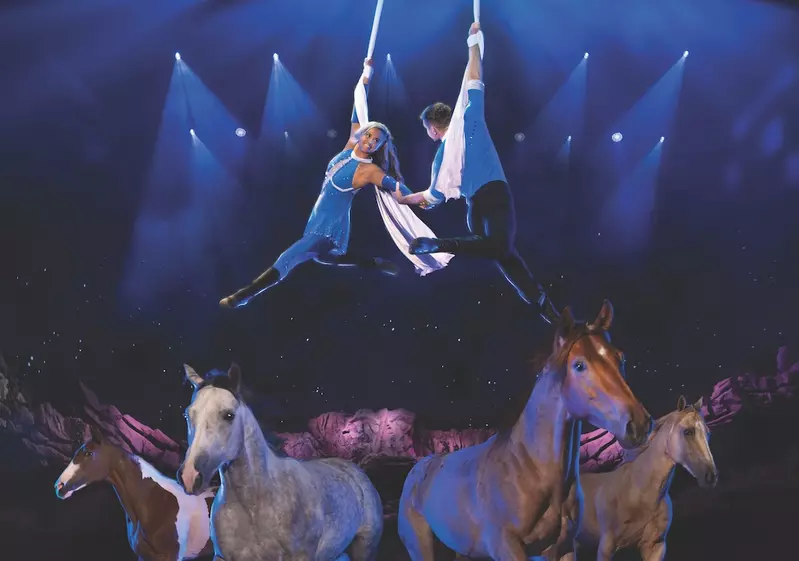 6 Acts You Won't Forget at Our Dinner Show in Branson
Dolly Parton's Stampede is the most fun place to eat in Branson, and once you visit us, you'll understand why! Not only do we serve a delicious four-course feast that will satisfy all your country cravings, but we serve it while entertaining you with a high-spirited adventure. Our show features acts you won't find anywhere else. To help you learn more about what to expect at Dolly Parton's Stampede, we've made a list of 6 acts you won't forget at our dinner show in Branson:
1. Aerial Performance
One of the most talked about acts in our show is our new aerial performance. We introduced this special moment in 2023, and it's been a favorite for everyone who's come to see our show since. This act combines our equestrian stars with breathtaking aerial acrobatics and is performed while Dolly Parton's original song, "Wild Horses," echoes throughout the arena. You'll be amazed at the new heights our performers reach above the arena floor.
2. Canine Capers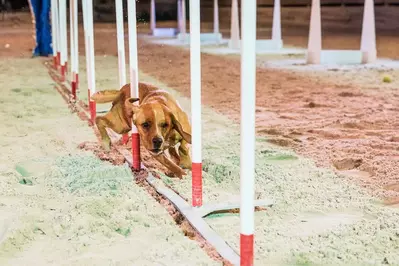 Unique to our Branson dinner show is our Canine Capers. This stunt dog relay event features Fly-Ball racing, an agility course, and a high jump in an exciting, head-to-head competition. The best part is that all of the dogs in our show are rescue animals who were specially trained to please dog lovers everywhere!
3. Roman Ride of Fire
Our Roman Ride of Fire is one act at our Branson dinner show you'll have to see to believe. It's a long-standing favorite among everyone who visits us. Two talented horses and a trick rider circle the arena before galloping right through a ring of fire! The horses move side-by-side as the rider stands with one foot on each, performing a series of fast-paced maneuvers. Watch in amazement as they split columns of fire before leaping through the ring of fire to complete the trick.
4. Buffalo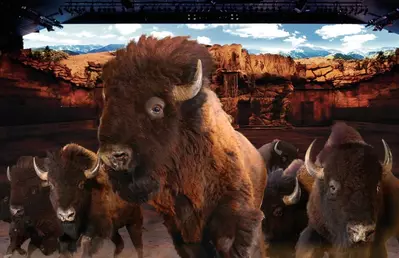 Our 32 beautiful horses may be the stars of the show, but they aren't the only animals you'll get to see. Dolly Parton's Stampede also has a stampede of buffalo! The audience loves when these powerful, majestic animals storm into the arena. It's not every day you get to be this close to a herd of buffalo!
5. Longhorns
Another favorite moment in our Branson dinner show is when our longhorns make an appearance. These are one of the most loved animals in our show. They appear as the pioneering settlers move west in search of new lands. This moment is special because for most of our guests, it's the closest they'll get to these incredible animals!
6. Grand Finale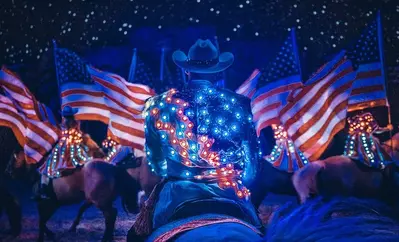 Our grand finale is an act you definitely don't want to miss. Watch as the two sides come together in a beautiful celebration of American patriotism. It's a patriotic salute of red, white, and blue and features beautiful costumes, incredible music, and white doves of peace! Your eyes will be glued to the center of the arena until the very last minute.
Now that you know more about the unforgettable acts you'll witness during our Branson dinner show, we bet you can't wait to visit! Take a look at our Branson show schedule, and start planning your trip today.