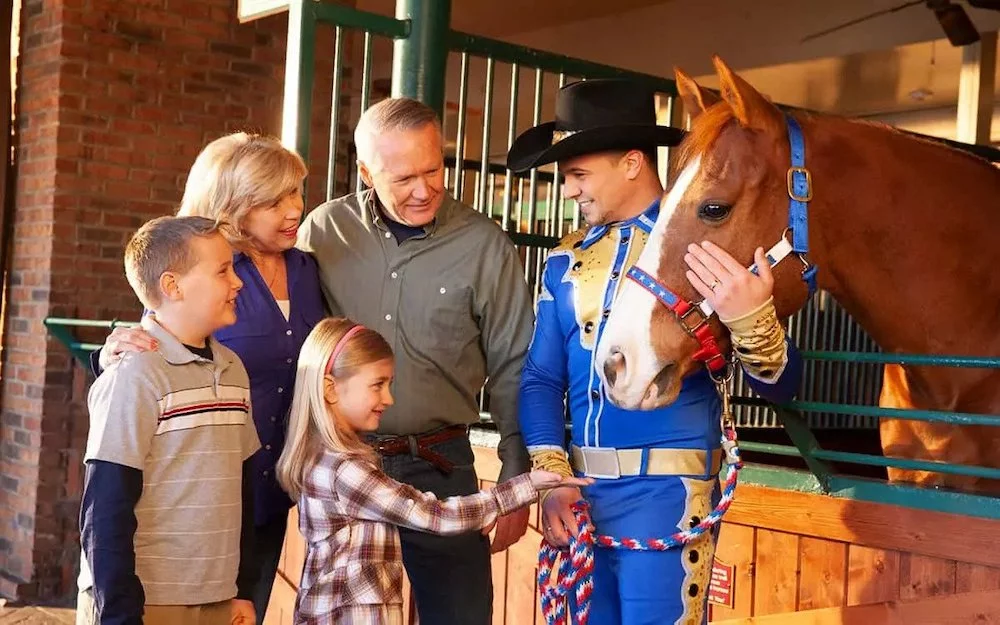 3 Reasons to Bring Your Group to Our Dinner Show in Pigeon Forge
There's nothing better than visiting Pigeon Forge with all your friends and family! Everything's more special when you get to share it with your loved ones. Don't be afraid to bring the whole crew along to the Smoky Mountains! There are plenty of group-friendly lodging options and activities in the area, including Dolly Parton's Stampede. Here are 3 reasons to bring your group to our dinner show in Pigeon Forge:
1. Fun for Everyone
The most difficult part of planning group vacations is finding activities that everyone can agree upon. We make it easy! Everyone has fun at Dolly Parton's Stampede. Our dinner show in Pigeon Forge provides excitement for all ages, from young kids to adults. Watch in excitement as 32 magnificent horses take the arena by storm, accompanied by our cast of talented trick riders. You'll get to witness a high-spirited adventure like nothing you've ever seen before, featuring aerial performances, musical productions, special effects, and more. Whether you're into singing and dancing, comedy, thrilling stunts, or all of the above, you'll find something to love at Dolly Parton's Stampede. Be sure to arrive early for the Horse Walk, another experience that's fun for all ages. Enjoy getting to see our four-legged stars of the show up close, and get a souvenir photo with them!
2. Four-Course Feast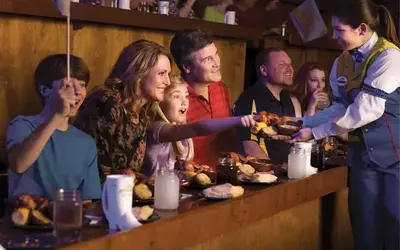 Another reason groups love our dinner show in Pigeon Forge is because we make meal plans easy. Bring everyone to Dolly Parton's Stampede and avoid the hassle of finding a restaurant that can accommodate your whole party! You'll not only get to enjoy our show, but you'll be served a mouth-watering four-course feast that will satisfy all your country cravings. The meal features comfort foods that everyone will love, including creamy vegetable soup, a hot homemade biscuit, a tender whole rotisserie chicken, hickory smoked barbecued pork loin, buttery corn on the cob, an herb-basted potato wedge, a hot flaky apple turnover, and unlimited Coca-Cola®, tea, or coffee. We even have special meals upon request so that those in your group with dietary needs won't feel left out! Let us know at the time of booking if you need gluten-free or vegetarian meals.
3. Group Discounts
Everyone loves saving money, especially when you visit with a group! Group vacations can get expensive, which is why we love helping you save when you attend our dinner show. We offer special pricing for groups of 20 people or more, and we can accommodate groups as large as 1,000! Whether you're in town with your family and friends or for a special occasion like a church retreat or field trip, we love welcoming all groups to Dolly Parton's Stampede. Plus, if you want an exclusive function all to yourselves, we can help you plan an unforgettable event and let you take over our arena. Everyone in your group will love getting to see the magic that our dinner show has to offer, and for a discounted price!
Now that you know why groups love our dinner show in Pigeon Forge, it's time to plan your visit! Take a look at our group information, then fill out our Groups Form to get started planning!