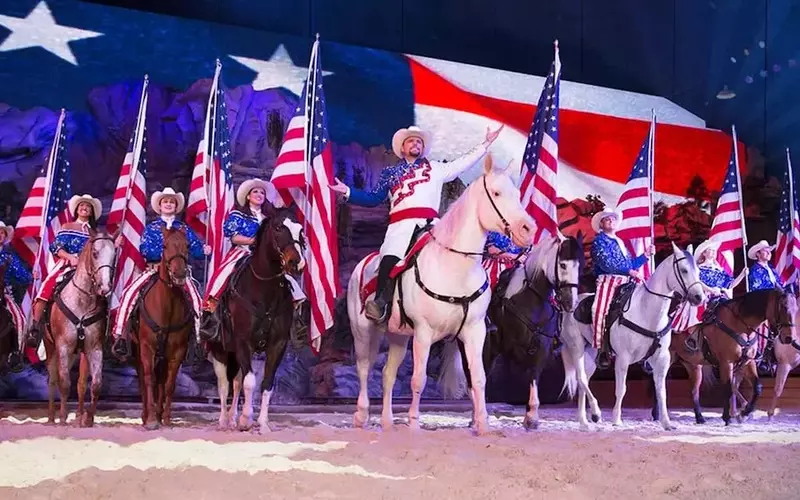 Stampede Emcee Performs The National Anthem At University of Tennessee - Dolly Parton's Stampede in Pigeon Forge, TN
Jay Teter, Emcee at Dolly Parton's Stampede, Sings National Anthem at UT Men's Basketball Game!
Our very own Jay Teter recently took center stage at the University of Tennessee's Thompson-Boling Arena to perform the National Anthem. Jay, emcee at Dolly Parton's Stampede in Pigeon Forge, sang just before tipoff at the UT Men's Basketball game on Saturday, Jan. 26, 2019.
The stands were packed with eager Vols fans ready to cheer on the No. 1 ranked Tennessee men's basketball team. As the host at Dolly Parton's Stampede, Jay knows a thing or two about an excited crowd ready to cheer for their favorite side! And as a Vols fan himself, Jay was just as excited about the game as anyone and was thrilled to be a part of the pre-game activities.
After 22 years hosting Dolly Parton's Stampede in Pigeon Forge as the show's emcee, having the opportunity to sing our National Anthem at the #1Tennessee Vols basketball game vs. West Virginia definitely is one of the most amazing experiences I've had in this role," Jay said. "It was right up there with hosting shows for the boss herself – Miss Dolly!
"The atmosphere at Thompson-Boling Arena (where the Tennessee Vols play their basketball games) was absolutely electric. 22,149 fans showing their reverence and respect for our great country as I sang is a memory I will never forget. And having my nine-year-old son (who plays basketball for his 3rd-grade team) with me, made it even more special. I LOVE MY JOB!"
Thompson-Boling Arena is home to the University of Tennessee's Men's and Women's Basketball and Volleyball programs. And currently, the Tennessee Volunteers Men's Basketball team is ranked No. 1 in the country.
Join Jay, his buddy Skeeter, 32 magnificent horses and the top-notch cast of trick riders who put it all on the line to win in a friendly competition at Dolly Parton's Stampede in Pigeon Forge, TN!