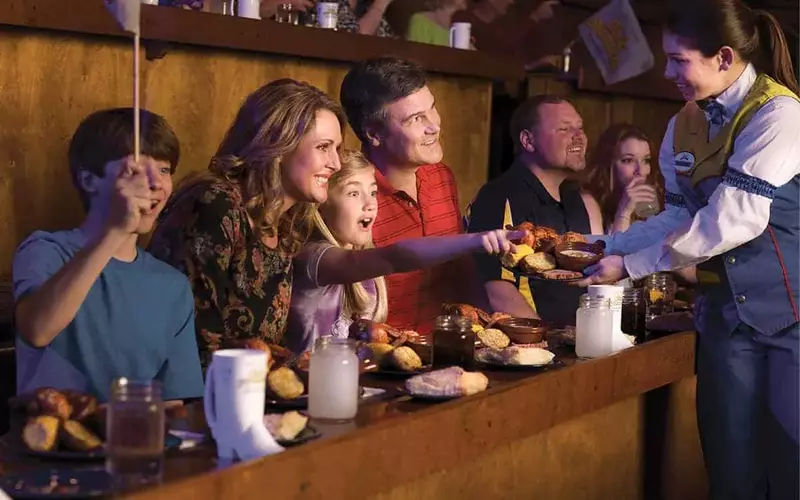 Where to Eat in Branson, MO: Our World-Class Dinner Attraction
There's no shortage of great dinner options in Branson, MO. But only one rises above the rest! Dolly Parton's Stampede is the world's most visited dinner attraction for its delicious food and never-ending entertainment! Tasty, home-cooked, country cravings meet a world of magnificent horses and spectacular trick riders at our dinner attraction! We invite you to join us to celebrate a family tradition at Branson's most fun place to eat! Here's why our world-class dinner attraction is where to eat in Branson, MO:
1. A Tasty Feast
You won't forget this feast! Once you get in your seats inside our 35,000 square foot main arena, you'll be served a mouth-watering four-course meal ! Our four-course feast includes:
The Stampede's Original Creamy Vegetable Soup
Scrumptious Homemade Biscuit
A Mouth-Watering Tender Whole Rotisserie Chicken
Delicious Hickory Smoked Barbecued Pork Loin
Buttery Corn on the Cob
Tasty Herb Basted Potato
The Stampede's very own Specialty Dessert
Unlimited Coca-Cola, tea or coffee
We also are happy to serve special vegetarian and gluten-free meals for those with dietary restrictions, upon request. Let us know which meal you would prefer when you make your reservation and you'll be all set when the show starts.
2. Entertainment, Too!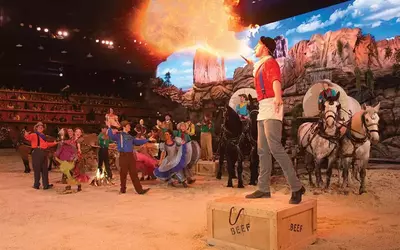 When searching for where to eat in Branson, MO, why not choose a place that offers both a delicious meal and entertainment? Not only do you receive a four-course meal at Dolly Parton's Stampede, but you'll also experience a night of fun and adventure! Our 32 horses and their highly skilled riders take part in competitions and high-speed trick riding stunts that leave our guests in awe! Spectacular special effects and top-notch musical productions create a show that entertains guests of all ages!
3. Skip the Long Dinner Wait
You've probably experienced it before; there's nothing worse than having to wait sometimes hours to be seated for a meal with the family! That's never a problem at Dolly Parton's Stampede! Right before the show gets underway, you'll be served our four-course meal, allowing you to enjoy the food throughout the show! In fact, if you arrive early, check out our "Horse Walk," where you can greet our horses before the show begins!
We hope you enjoyed learning about why our world-class dinner attraction is where to eat in Branson, MO! We can't wait to see you soon! Grab your tickets to Dolly Parton's Stampede and start planning your trip to Branson, MO today!