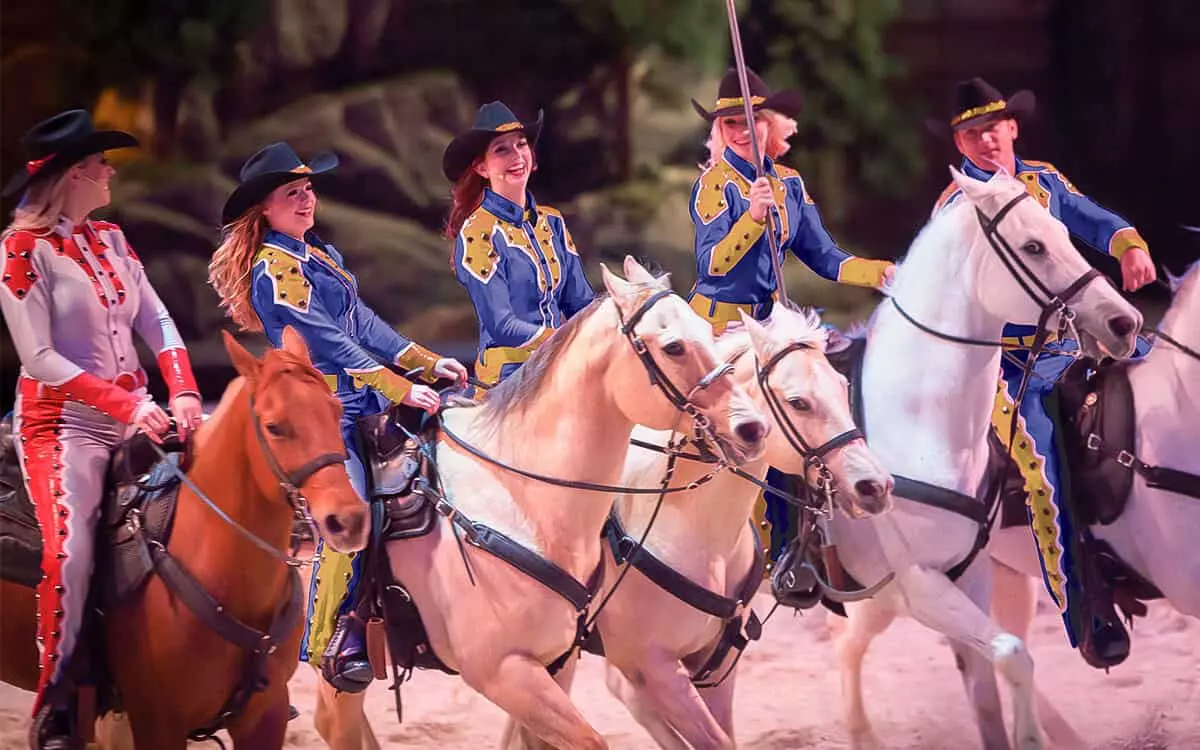 Answering Your Most Asked Questions About Dolly Parton's Stampede in Pigeon Forge
Make the most of your vacation to the Smoky Mountains by enjoying an entertaining experience with your family at our Pigeon Forge dinner show, Dolly Parton's Stampede! Our 32 magnificent horses and their trained riders compete in a series of friendly competitions that include horseback stunts at top speeds! Our dinner show has become a fan favorite of Smoky Mountain visitors because of its neverending thrills and guaranteed fun! You know this show has to be the real deal for Dolly herself to put her name on it! If you're thinking of joining us, we'll help prepare you by answering some of your most asked questions about Dolly Parton's Stampede in Pigeon Forge:
How Long is Dolly Parton's Stampede?
The Dolly Parton's Stampede experience lasts about an hour and a half from the start of the show to the end! So, buckle up for what's sure to be a unique experience full of laughs for the whole family! Many of our guests particularly enjoy the interactive nature of our show, which makes everyone feel like they're a part of all the action!
How Do I Get Tickets?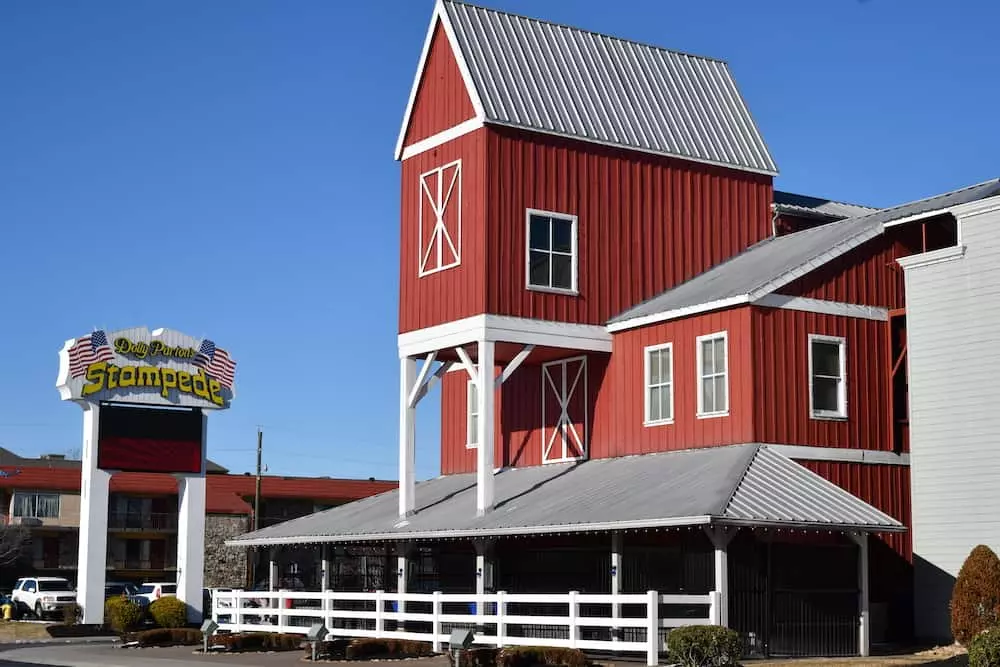 Secure your tickets before even taking off for your trip to the Smokies! Start planning your vacation today and grab your tickets to Dolly Parton's Stampede! You can reach a representative from our box office by calling (865) 453-4400. Additionally, tickets can be purchased in person at our box office.
Should I Arrive Early?
Without a doubt! Make sure to arrive early to Dolly Parton's Stampede — especially if you're bringing children – to stop by the show's world famous Horse Walk! Guests are given the opportunity to walk along our stables and get an up-close look at the stars of our show! A beautiful variety of horse breeds is sure to capture everyone's interest!
What Does Dinner Include?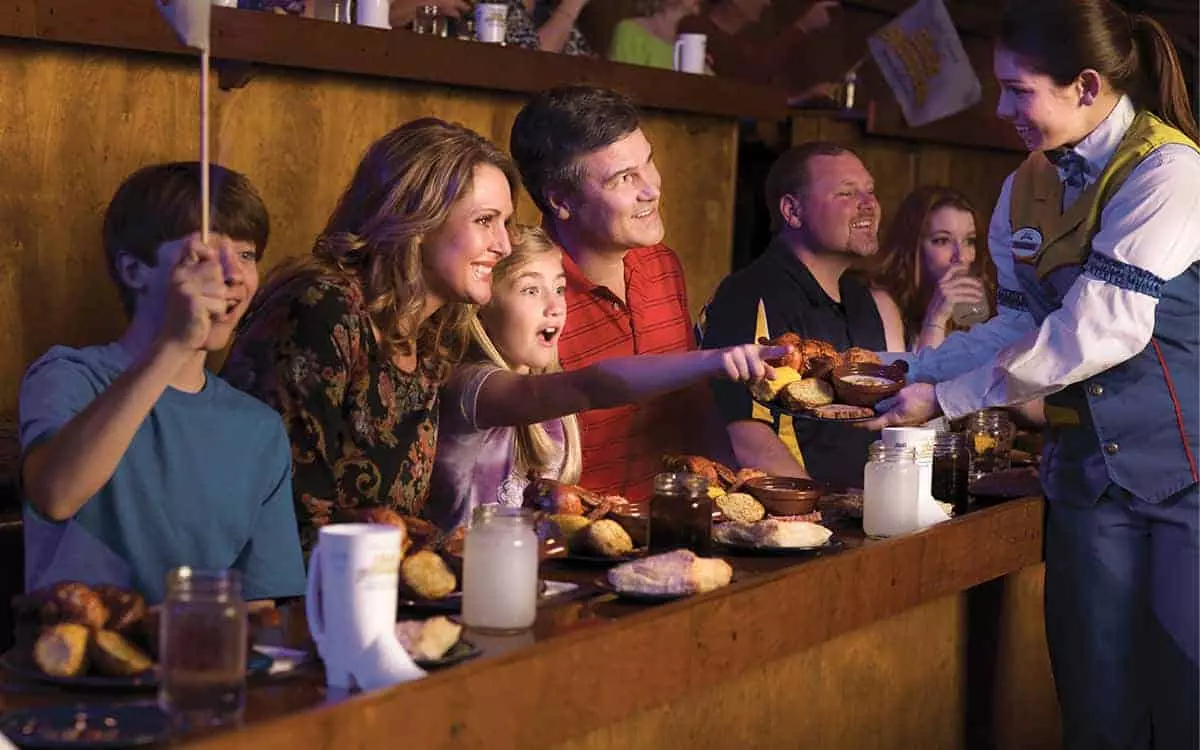 You can probably leave the belt in your suitcase for this excursion! At Dolly Parton's Stampede, you'll be served a mouth-watering four-course feast of home-cooked, country cravings! Our dinner includes:
Our Own Original Creamy Vegetable Soup
Hot Homemade Biscuit
Tender Whole Rotisserie Chicken
Hickory Smoked Barbeque Pork Loin
Buttery Corn on the Cob
Herb Basted Potato
Hot Flaky Apple Turnover
Unlimited Coca-Cola, tea or coffee
Are There Vegetarian or Gluten-Free Options?
Yes! We want everyone to be able to enjoy the delicious dinner aspect of our world-class dinner attractions. If you have any dietary restrictions, we are happy to serve both vegetarian and gluten-free dinner options! We offer both a four-course vegetarian feast and a gluten-free feast that guests love.
We hope that we were able to answer any questions you have before visiting us at Dolly Parton's Stampede! While planning your trip to the Smoky Mountains, make sure to take a look at the top things to do in Pigeon Forge for first-time visitors!