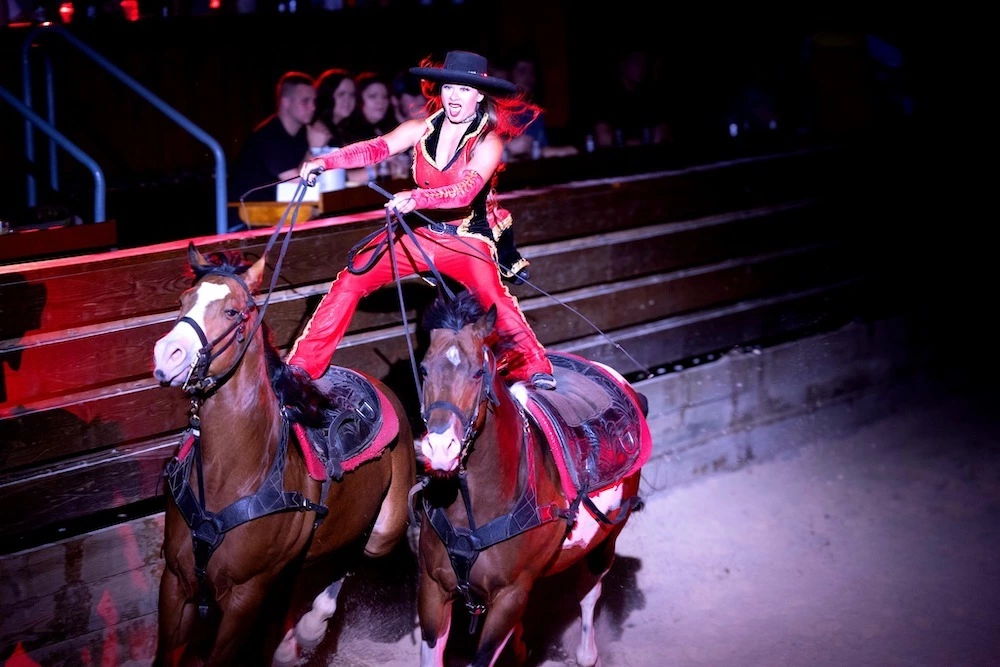 4 Most Popular Tricks in Our Pigeon Forge Dinner Show
Dolly Parton's Stampede is a high-spirited adventure featuring a talented cast of horses, trick riders, singers, dancers, and more. When you visit, you can expect to be captivated by stunning musical productions, spectacular special effects, and some friendly competition. While our show is full of tricks and stunts that will leave you feeling amazed, there are several that stand out as guest-favorites. Here are 4 popular tricks in our Pigeon Forge dinner show:
1. Aerial Act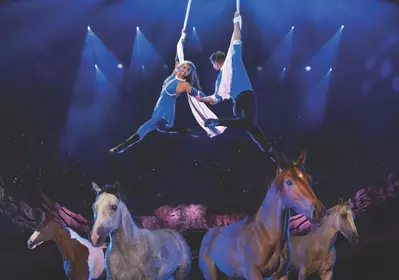 In 2022, we added a new aerial act to the show, and it quickly became a favorite among everyone who visited. This special act combines our equestrian stars with breathtaking aerial acrobatics. It begins with our performers riding horseback into the arena. After they take a lap around the Stampede, the performers' aerial talents take them to new heights above the arena floor. The best part is that while the act takes place, an original Dolly Parton song titled "Wild Horses" echoes throughout the arena. The song sets the scene for this incredible act.
2. Roman Ride of Fire
Another one of our most popular tricks at our Pigeon Forge dinner show is the Roman Ride of Fire. This trick is a long-standing favorite among our audience members. Watch as our talented horses and a trick rider circle the arena before galloping right through a ring of fire! The trick involves two horses moving side-by-side with the rider standing astride both horses. With one foot on each horse, our trick rider performs a series of fast-paced maneuvers as they split columns of fire before leaping through the ring of fire.
3. Fire Breathing Trick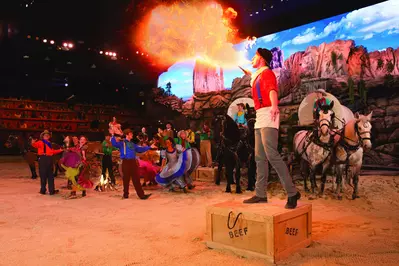 The Roman Ride of Fire isn't the only fire trick in our show! We also have an impressive fire breathing trick you don't want to miss. Our firebreather leaves the audience amazed as they wonder how he does it!
4. Barrel Trick
If you love magic tricks, the barrel trick at Dolly Parton's Stampede will be your favorite! It involves a member of the audience helping Skeeter, our resident comedian, pull one over on our emcee. You'll be left wondering how he managed to pull off the trick as the audience member climbs out of a different barrel than the one they started in. You won't believe your eyes!
About Our Pigeon Forge Dinner Show
These are just some of the incredible tricks you'll see at our Pigeon Forge show. Expect a full evening of talented horses and trick riders, singing and dancing, special effects, and, of course, a delicious four-course feast! Our feast is made to satisfy all your home-cooked country cravings as you watch the adventure unfold in our arena. Are you ready to see all these tricks and more at Dolly Parton's Stampede? Get your tickets to our Pigeon Forge dinner show today!